I have yet to truly come in contact with a really frightening casual game. I mean sure there's been a few that have creeped me out or gone for a cheap scare by making me jump out of my seat because something popped out at me. But nothing really that has conjured nightmares.
Until now.
I never thought that Stray Souls: Stolen Memories would be the game to do it either. I mean it seemed like it was really creepy but nothing that I couldn't handle... but you know how sometimes something will just strike you as off and then it gets stuck in your head? Yeah... that happened to me with this game.
Truthfully, I haven't played too far into the game, but some of the artwork and characters have been swirling around my subconscious already, and I'm not sure how much further I want to go in Stray Souls: Stolen Memories if it's already having this effect on me.
All those faceless dolls, the disturbing artwork on some of the photos, the clown turning a rabbit into a knife and hurling it at me... yeah those are things that are somewhat unsettling.
If nothing else, I suppose the good news is that we already have a Stray Souls: Stolen Memories Walkthrough up, and yes it is complete... all fourteen chapters have been posted and are waiting to hold your hand as you venture further into this chilling hidden object adventure game.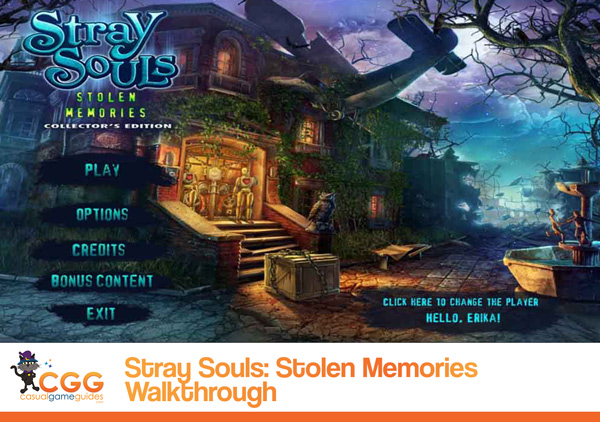 I'm not sure if that's going to help me, although knowing that I don't have to wander around aimlessly does offer some comfort.
Our Stray Souls Walkthrough comes complete with detailed chapter-by-chapter instructions that will offer advice and tell you exactly what you need to do to progress in the game.
We've also got a library packed full of custom screenshots to help you see where key items are located and show you exactly what you need to do and where.
And finally... Stray Souls is full of tons of challenging puzzles, so we made sure this Stray Souls Walkthrough included the solutions to all the mini-games and puzzles you'll encounter in this strange and twisted world.
So, if you have a strong stomach for faceless dolls and creepy clowns, and you're determined to see this one through to the end, don't forget to take along our Stray Souls: Stolen Memories Walkthrough for some moral support.