Even though PuppetShow: Destiny Undone wasn't the spookfest I had originally expected, there were still so many things I adored in the game that I'm finding it hard not to play it ALL of the time these days.
From the lovely dolls that I could see myself coveting, to the creepy little evil erector set puppet that reminded me so much of the Toy Story doll, to the unique puzzles and games, to my very own redheaded erector set puppet, (which I appropriately named Ron Weasely), PuppetShow: Destiny Undone has everything I could ask for in a hidden object game...
Except that there are times I have absolutely no idea what to do next... but then again... I have this problem with most games.
Fortunately, our game guru, Erika, is just finishing up the PuppetShow: Destiny Undone Walkthrough, so I don't have to spend precious moments trying to figure out what to do next!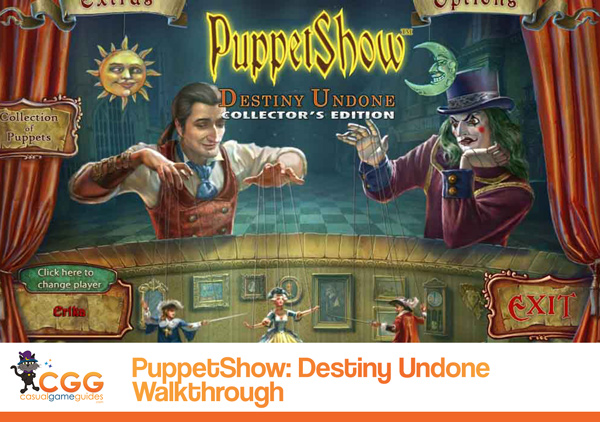 She's done a great job on this guide, packing it full of some really nice screenshots where she's marked up all the key locations and items for us, as well as provided very easy-to-understand instructions that will guide us from the very first scene of the game to the very last. She's also included solutions to all the tricky puzzles and mini-games we'll find throughout the game as we play, so we'll never have to rely on that skip button to move the game forward.
So, whenever you're stuck and don't know what to do next in this mysterious missing persons case, consult our PuppetShow: Destiny Undone Walkthrough. It's sure to shed some light on your investigation and help you get to the bottom of what's really going on in Joyville.