Welcome to our Midnight Castle Walkthrough, where we'll post advice, answer your questions, and play along together as updates come out for this exciting free-to-play, hidden object game from Big Fish Games!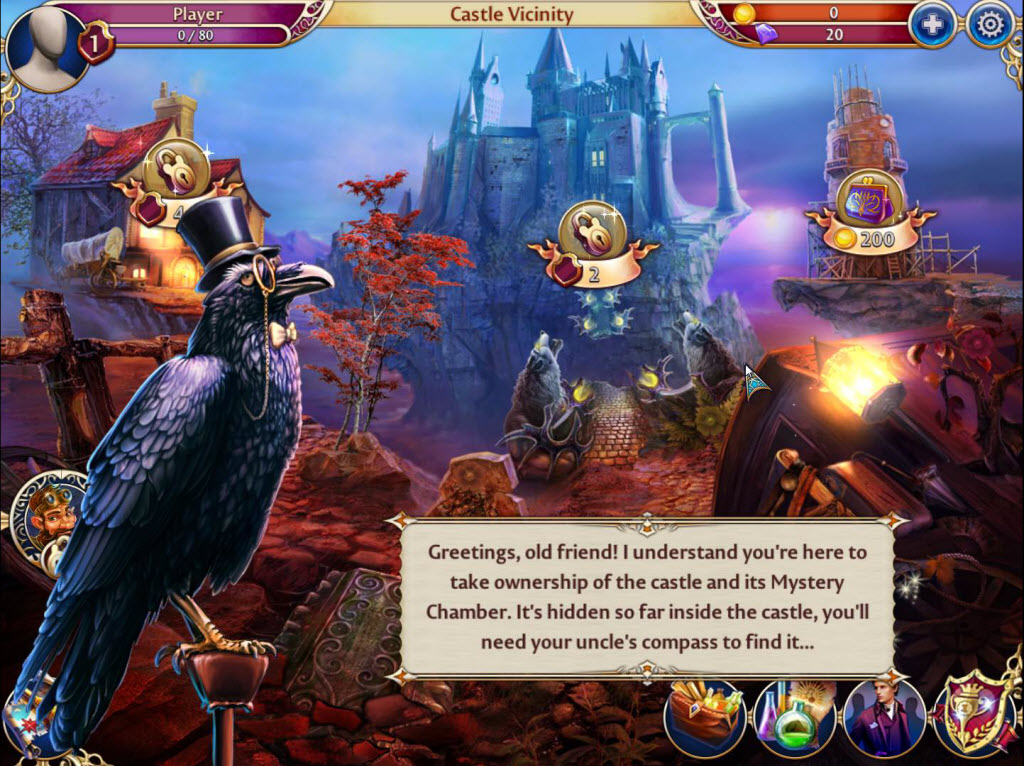 Our story begins with a letter in the mail informing you that your late Uncle Vesnik has willed his castle to you. This castle, or so you're told, holds a secret chamber of wishes that will grant the wish of whoever finds it. Determined to ensure this secret chamber doesn't fall into the wrong hands, you set off to the castle.
Once you arrive at the castle, you meet Professor Pinfeathers, your avian guide in this game. He will help you learn how to play the game and provide you with quests to help you move deeper into the castle.
Here's a few tips to help you get started:
Know where all your hidden object scenes are. You'll have to play them over again in order to gather materials for quests and for crafting items. Each hidden object scene has a counter that starts after you've played it. Once the counter runs down, you'll be able to play the area again. Or, if you're in a hurry, you can use diamonds to speed things up. You start the game with a certain amount of diamonds, but as you might have guessed, you have to purchase more with real money. Although they can be earned sparingly throughout the game as you play.

Work on one quest at a time. If you accept too many quests at once, it will take longer to complete them all on a whole. Try to focus on one quest at at time and you'll get the items you need faster.

Chain items in hidden object scenes for more points. The faster you're able to find the items in a row, the more points you'll receive, so it's worth a quick once over before you start tapping away at items.

If you're not sure what to do next, check the left-hand side of your screen for open quests. Each quest will show your progress and direct you to the place you need to go in order to find a particular item needed to complete it.

Pay attention to the items you find in each HO scene. You'll have to return to each scene many times to find the same items. I.e. forged keys in the Broken Well.

Become familiar with the items each scene has. As you continue to find items, the list will get longer, but the objects will be the same. It's easier to identify the obects quickly when you know what they look like already.

Keep your eyes open for flowers that will appear throughout your screen. Be quick and tap or click on them. For every 5 flowers you collect, you will receive a reward - either coins or diamonds. If you're waiting for HO scenes to open up, this is a good way to spend your time.