The ultimate goal of the game is to beat the Governor of Texas at poker. However, in order to do that, you must advance to second on the list of the Notorious Players list in the game. To unlock and find all of the Notorious Players, you need to win all of the public transportation tournaments (Stage Coach, Train, and Riverboat) as well as the coal mine, copper mine, and gold mine.

Tip: I recommend focusing on owning the majority if not all of the cities first before attempting to track down all the notorious players. Once you own all the cities, you'll have plenty of daily income to play poker on the various forms of transportation and the various mines.


Notorious Players List
| Notorious Players | Location | PreRequisite |
| --- | --- | --- |
| Jack (the Governor) Bullsworth | Dallas | 2nd on the Notorious Player List |
| Chuck (the Quiet One) Walker | Longview | Must win Riverboat |
| Cheng-Gong (Let's Play) Cheung | Waco | Must win Goldmine |
| Biff (The Mountain Man) Connelly | San Antonio | Must win Coppermine |
| Christine (Just Call) Whistler | Abilene | Opened After Naomi Beat |
| Naomi (The Alligator) Williams | Austin | Must win the Train |
| Sally (Silent Spirit) Franklin | Victoria | |
| Sam (Calling Dark) Stone | | |
| Macawee (Winning Two) Chapa | Amarillo | |
Notorious Player Example
You start out at the bottom.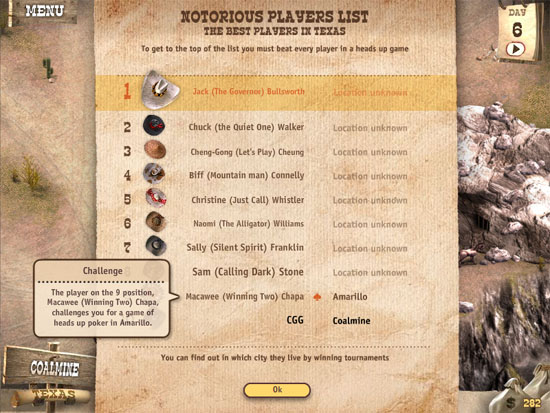 You unlock and find the player. Is that a typo I see?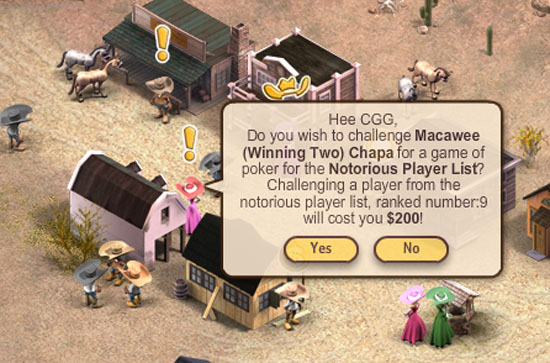 You beat the player.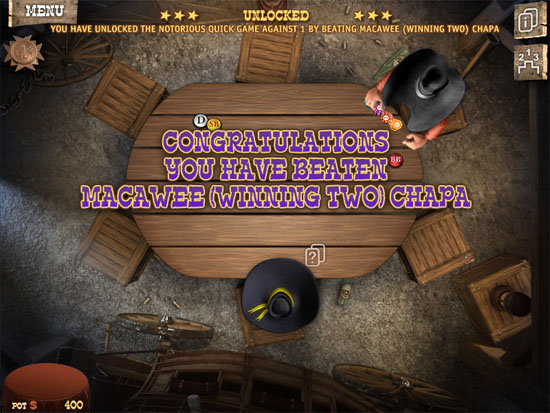 You move up the list.