Welcome to our Cut the Rope 2 Walkthrough where you'll find all the information you'll need to play this exciting sequel to the popular original adventure of Om Nom.
In this guide, we've provided a general overview of the game and how to play. If you're looking for a particular solution to a level, please leave a comment below to let us know what level you would like the solution to, and we'll work on getting that level solution up on the site.
Please enjoy our Cut the Rope 2 Walkthrough!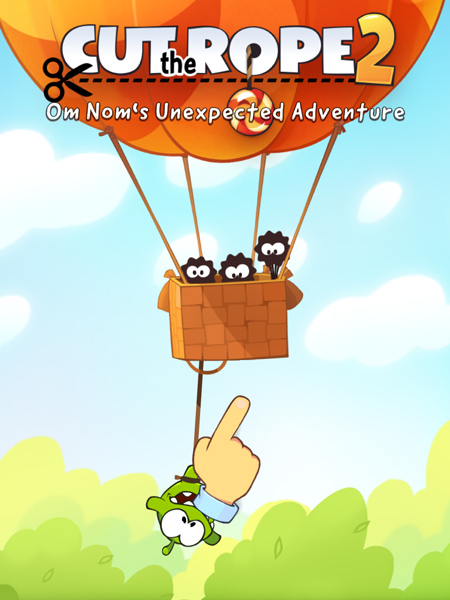 Basic Tips for Cut the Rope 2
Downloading the Game: The first step to enjoying this grand adventure is to download Cut the Rope 2. Simply click the Buy link above or click here now to get started.
Game Objective: It's a simple but cute objective... Om Nom is hungry... feed him candy by getting the piece of candy on each level into his mouth. You also want to collect the stars along the way.
Collecting Stars - To complete a level, you only need to feed Om Nom the candy, however, to open up new worlds, you need to collect a minimum of stars. The number of stars you've collected is marked in the top left hand corner of your screen.
Cutting the Rope - To cut the rope on your screen, simply swipe your finger along the area you want to cut. Remember, just because there's a rope on a level, doesn't mean you need to cut it. You need to work on a strategy in order to collect all the stars and feen Om Nom.
Daily Rewards - You can get daily rewards by returning to play the game each day. Just tap on a butterfly to claim your reward.
Cut the Rope Worlds - There are currently five worlds for Om Nom to play in. They include: 1. Forest, 2. Sandy Dam, 3. Junkyard, 4. City Park, and 5. Underground. You must collect a certain amount of stars in each area in order to progress to the next world. You can also unlock bonus levels by collecting the hard to reach clovers.
Pause Button: The Pause button is found in the top right corner. By clicking on this, you can bring up the options menu. From here you can return to the screen displaying the levels, replay the level, play the level, shop for extras, and mute the sound.
Replay Button: If you make a mistake and need to start the current level over again, just click the replay button in the top right.
And that's the basics for playing Cut the Rope 2! We hope you enjoy our Cut the Rope 2 Walkthrough!