You weren't looking for a grand adventure through time at all... no, you were rather keen on decorating your Christmas tree and spending Christmas Eve with loved ones. But, well, when has anything ever gone the way you planned in the Redemption Cemetery series?
Instead of the usual ravens cawing at you, this time you have the help of a snowy white owl who just so happens to be your ancient ancestor and once great spirit. Years ago he chose a mortal life because he fell in love with a human... oh and he happened to turn down the advances of a powerful spirit of cold at the same time.
And after all these years, that lady can't take a hint. Now, she's finally ready to exact her revenge by traveling back in time and killing off each member in your family tree until she destroys the woman your ancestor loved before he could ever meet her... and that's just not good news for you since that would negate your very existence.
But lucky for you, we're here to help preserve your future by providing a Redemption Cemetery: Bitter Frost Walkthrough.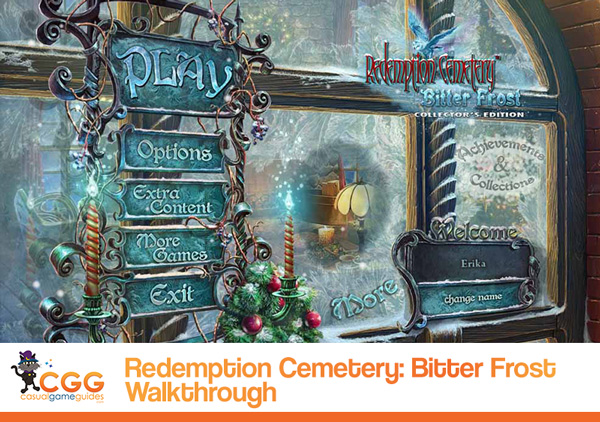 With our Redemption Cemetery: Bitter Frost Walkthrough, you won't ever find yourself lost in the cold wondering what to do next and shivering in your boots with frustration.
That's because we've made sure to include plenty of custom marked screenshots, with all the key items and areas highlighted for easy identification. We've also included detailed instructions that outline the steps you need to take throughout the game.
And, as if that wasn't enough, we've also thrown in solutions to all the puzzles and mini-games you'll encounter as you play!
So don't fret about being lost in the freezing cold shadows of the past! Our Redemption Cemetery: Bitter Frost Walkthrough is always there to lend a warm shoulder to lean on whenever you need it! Enjoy!