OK, I admit, when I saw that the new House of 1000 Doors game was about snakes, I couldn't help but ask Melissa to review it...
You see, we've known each other for years now... grew up in the same small town in backwater New Jersey and snakes were a very real common occurrence there. I'm not sure when her fear of snakes manifested itself into bloodcurdling screeches whenever she sees them... but I have a hunch that it started the day she found a snake in her bedroom... lol I think we must have been maybe 8 years old. That certainly is enough to traumatize a person.
Usually once a year we would find a snake in the house... my mother would don her snake-fighting armor... an oven mitt on each hand and launch herself at the thing, while I screamed helplessly as she carried the wiggling creature outside. OK, so maybe Melissa isn't the only one who has a little fear of snakes.
There's just something about them that makes you not trust them. Creepy little things... or in the case of House of 1000 Doors Serpent Flame... creepy, terrifying, and humongous things! I have to hand it to the developers... snakes aren't usually a villain in hidden object games, and while they are somewhat overdone in the rest of the world, they made for a unique gameplay.
But certainly not a game we'd want to wander around alone in. So we set to work creating a robust House of 1000 Doors Serpent Flame Walkthrough to help out when things got just a bit too real. Don't worry... I wasn't mean enough to ask Melissa to write it... of course, I wasn't brave enough to do it myself either... thank goodness for Erika!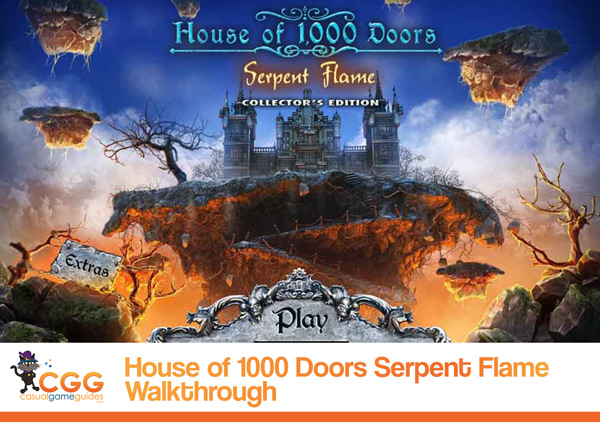 She's put together a nice comprehensive House of 1000 Doors Walkthrough for you, full of everything you'll need to know to put an end to these ancient snakes' reign of terror.
She made sure to take plenty of screenshots and marked each one with care so you can see all the key item locations. She also itemized each step you'll need to take and jotted down detailed instructions so you'll always know what to do next. And finally, she's got all the puzzle solutions you'll need to get through any of the mini-games you'll encounter as you play.
So if you can find a way to get past your fear of snakes, irrational or not, don't forget the journey will be easier if you remember to pack our House of 1000 Doors Serpent Flame Walkthrough with you before you go!