The last time I played a Hidden Mysteries offering it was a royal encounter with Hidden Mysteries: Royal Family Secrets. In that game, you serve as the queen's most trusted handmaiden, who is falsely accused of stealing Her Majesty's brooch and sentenced to death in the Tower of London.
Now, the Hidden Mysteries bunch continues its love affair with royalty by dealing with a mystery involving the king. The king of rock and roll, that is.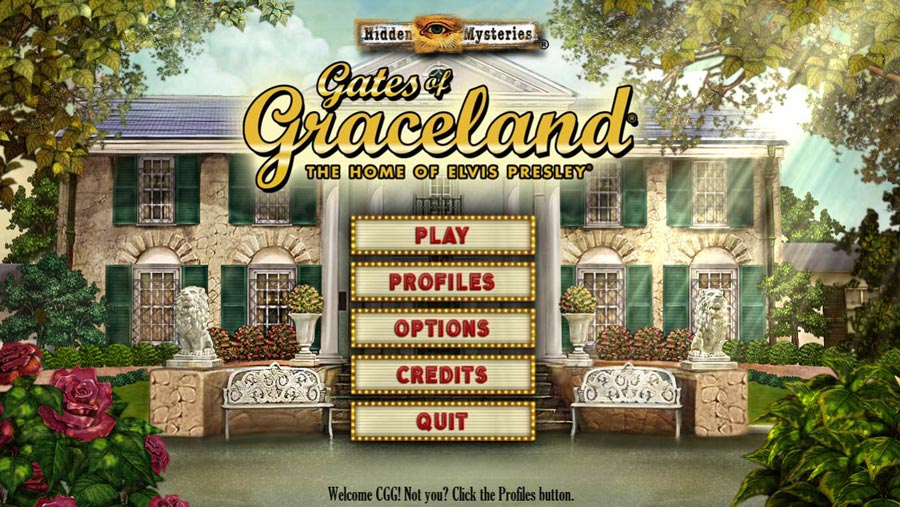 In Hidden Mysteries: Gates of Graceland, you are a music historian charged with locating a lost song Elvis Presley supposedly wrote for his mother, Gladys.
Your search takes you through Graceland room by room, as you seek the clues left behind by the king himself. The game developers very creatively move the story along with photos and film clips of Elvis and his family. The result is a captivating game and an involving story.
Now a museum and National Historic Landmark, Graceland is one of the most visited private homes in America with more than 600,000 visitors per year. In the same way that you wouldn't wander through a museum like Graceland without a map, you wouldn't roam Hidden Mysteries: Gates of Graceland without a tour guide.
Cue CGG's Hidden Mysteries: Gate of Graceland Walkthrough, the best museum guide money can't buy.
Follow the detailed directions matched with marked screenshots from actual gameplay. Use it as frequently or infrequently as you want for a hunka hunka burning fun.