In Forgotten Books: The Enchanted Crown, you'll be swept up into a magical world that's kept hidden inside the remains of an ancient book.
Your friend, a librarian, calls you to come take a look at a book that's been causing some trouble in the library. As you leaf through the pages, you notice something peculiar... the book appears to be talking to you through the pages.
It asks if you'll help the creatures who are in danger in their world. After thinking it over, you decide you can't walk away from this strange occurrence and write your agreement in the book. Before the ink can evenhave time to dry, you're drawn into the book and into a whole lot of trouble!
Apparently a dark and ferocious mage is terrorizing the kingdom and is searching for the Enchanted Crown, which will help cement his rule over this magical realm. However, we've prepared a secret weapon in the form of a Forgotten Books: The Enchanted Crown Walkthrough to help you find the crown first and fight off this evil creature.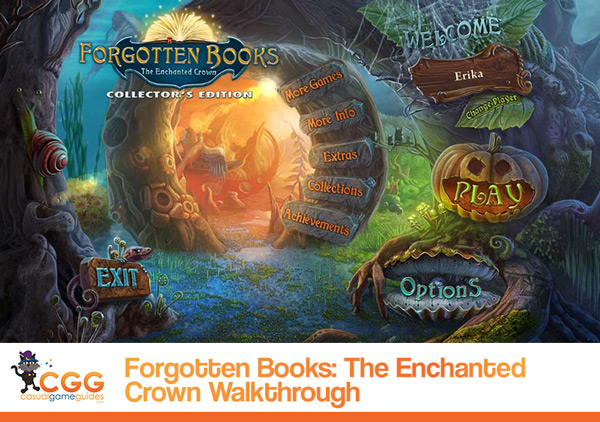 Our Forgotten Books: The Enchanted Crown Walkthrough comes well equipped with everything you'll need to face down the dark mage, including detailed directions from start to finish, custom marked screenshots, and step-by-step instructions on how to solve all the puzzles you'll encounter.
So, before you give up on saving this world of whimsy, take a quick peak at our Forgotten Books: The Enchanted Crown Walkthrough, and we'll make sure you're put back on the path to victory!