Grim Facade: Sinister Obsession is today's Big Fish Games $2.99 Daily Deal, another whodunit hidden object adventure game in the Grim Facade franchise.

This new investigation has brought you to a charming villa in rural Italy, a picturesque setting just perfect for murder and mayhem. When a young maid hands you a diary that details the murders of three women on the estate, you are immediately embroiled in a race to catch this mysterious killer before they strike again. But beware, the killer has set his sights on another victim... you! Can you track down this murderer before it's too late?

Grim Facade: Sinister Obsession maintains an average 3.3 out of 5 Star rating.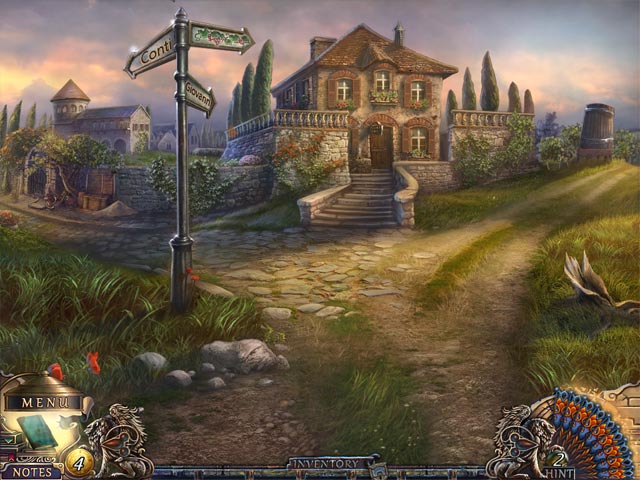 52% of players would recommend this game to a friend.
Here's a few comments from both sides of the spectrum.
Positive Comments:
"Excellent cutscenes, very convincing VO, appealing story, perfect graphics, great animation and soundtrack, gorgeous locations, colorful and neat in details."
"I loved the artwork, sound effects and great voice-overs that brought life to our characters."
"The ATMOSPHERE of this game is SUPER. The AMBIENT SOUNDS plus the sunlit LOCATIONS give an excellent impression of lazy hot afternoons under an azure Italian sky."
Negative Comments:
"I found the gameplay stilted and unnatural to the extent that I wasn't able to immerse myself in the story at all"
"As the game wore on, all the back and forth and crazy, illogical uses for the collected items became tedious and boring."
"If you like HOGs you may enjoy this, but I found very little fun in this game as actions involving inventory were either blatantly obvious or so obscure you wondered how the developers came up with them."
And that's the basic sum-up for Grim Facade: Sinister Obsession! Don't forget, if you want to take advantage of this deal, it will only be available to purchase at the discounted price of $2.99 until midnight tonight!