Our Angelica Weaver Catch Me When You Can Walkthrough will help step you through the sands of time in this chilling hidden object adventure game as you attempt to solve the mystery of the time traveling serial killer. Whenever the clues go cold or you hit a dead end, trust this handy walkthrough to shed some light on the matter.
Hey guess what? Did you know that Isabelle's favorite movie is the Lion King and William likes shoes? I didn't either, but since my sister has been laid up for a few days with the two bad kidney stones experience, I've gotten to hang out with my niece and nephew the last few days a lot more than I usually do, and it's been interesting the say the least.
I wouldn't say that I'm NOT a kid person. I don't have any yet myself, but kids do tend to... I don't know... what's the right word... intimidate me? I just never know how to act with them so I usually just start talking about the weather like my parents do when they talk to me. Sure is hot today Isabelle... yep... looks like rain William. And I wonder why they look at me strangely.
But at least Isabelle has become quite a chatter box lately so she does enough talking for both of us. She starts every new conversation marathon with "Hey, guess what?" and then launches into some story about how Aunt Liz took her to see Finding Nemo in 3D and how cool it was and why don't we do cool things like that Aunt Tracy.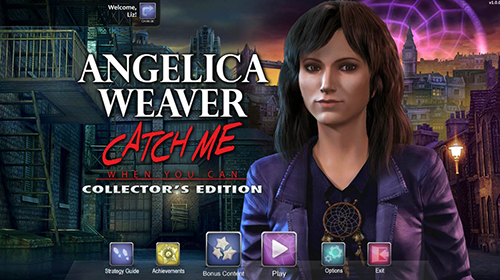 It's been really fun, but I sure needed an adult break by the time they went home for the night. That is the nice thing about being an Aunt; they do eventually go home. Thankfully, Erika had just finished up the Angelica Weaver Catch Me When You Can Walkthrough, and I was able to take it for a test drive last night, glass of chilled wine held firmly in my hand.
What don't I love about Angelica Weaver Catch Me When You Can? It's a ridiculously awesome game that makes me feel like I'm part of a CSI or Law and Order episode mixed with a little psychic /time traveling. How can you beat that? It's honestly one of the best hidden object adventure games I've seen all year. Just absolutely stunning.
Now with the Angelica Weaver Catch Me When You Can Walkthrough, Erika was nice enough to include some great screenshots where she marked all the key locations and items that you need to worry about, plus she included detailed step-by-step instructions on exactly what you need to do from the beginning of the game to the very end.
With this Angelica Weaver Catch Me When You Can Walkthrough at your side, you should have no problem tracking down the killer and finding that murder weapon. We've even included in the walkthrough the Bonus Section if you've got the Collector's Edition.
As always, have fun playing and we hope you enjoy the Angelica Weaver Catch Me When You Can Walkthrough!