It's hard to believe that another year is ending already. Where does the time go? I feel like we just put all our Christmas decorations up, and now I'm going to have to take them all down again. Sigh... Oh well, I still have tonight and tomorrow to look forward to...although, I admit, I am slightly apprehensive about tonight.
My family and I are planning on going to Epcot tonight to brave the crowds another year. We did this last year too and had a blast, but I'm afraid we might not get so lucky this year. Last year was perfect... Even if we spent about an hour in line waiting for Liz to get some cantaloupe drink that was way too sweet for me to stomach, and then another hour in line waiting for me and my other sister to get a soft pretzel and a beer... We still fondly remember that pretzel as the best damn pretzel that ever existed, and I fully intend on repeating that experience.
But the fireworks display at midnight and the ongoing entertainment was so worth it. We spent most of the time in China attempting to dance as this amazing display of a Chinese dragon breathed real fire above us... It was awesome... It was also freezing, so that might have had something to do with us staying close to that particular area.
Anyhow, one thing I acutely remember last year was the parking lot experience at the end of the night... The fog was rolling into the jammed parking lot filled with cars waiting to leave. As we walked through the lot, a creepy silence descended on us. Not a sound could be heard across one of the world's largest parking lots filled with people. It took me a few moments to realize what was going on...
Not a single engine was running... Everyone was stuck and pretty much sleeping in their cars waiting for the lines to move. It was like walking onto the scene of a Stephen King book. Seriously one of the most surreal moments of my life. It still gives me chills thinking about it.
This experience ties in nicely with the whole point of this post...as you wander onto the scene of Abyss the Wraiths of Eden, you get that same feeling. A creepy chilling emptiness... Like you're the only one left in the world. Except this city is deep under the sea, and the feeling of isolation is amplified even further.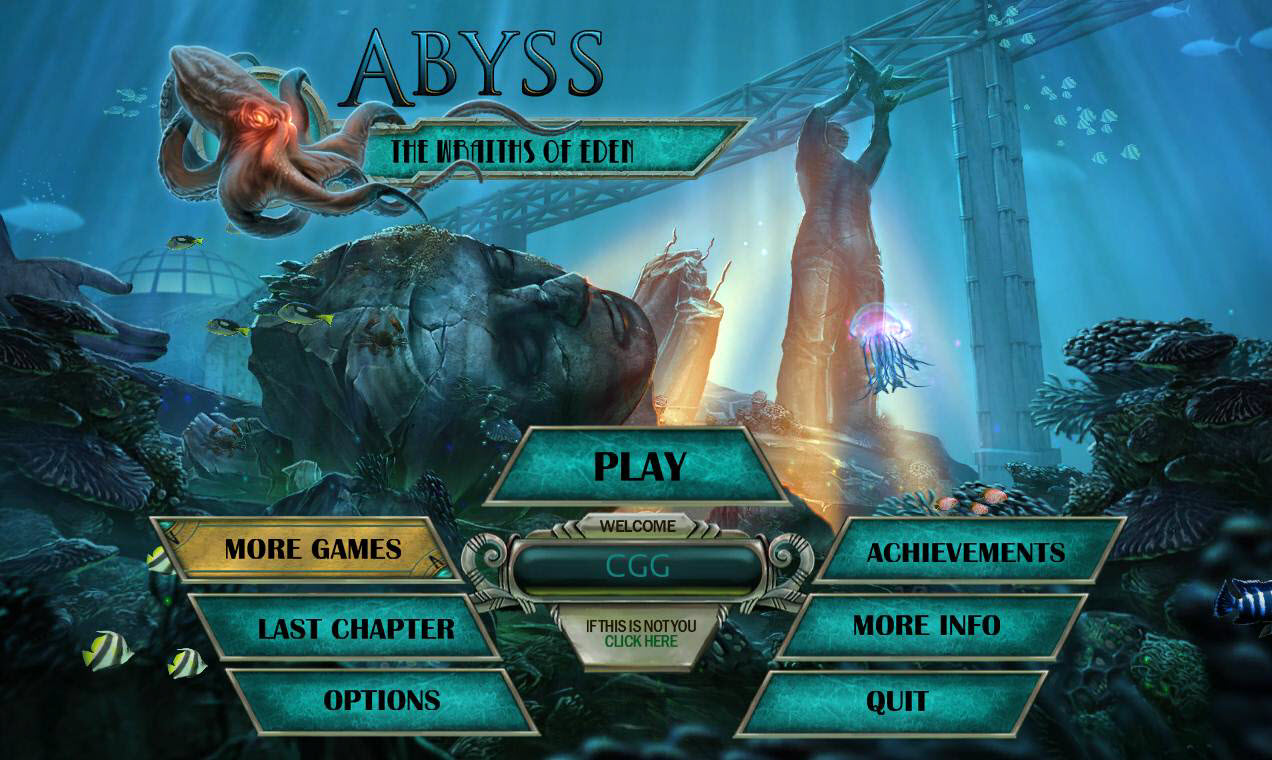 If ever there was a need for a little support, this game definitely qualifies. That's why we worked so diligently on bringing you the Abyss the Wraiths of Eden Walkthrough.
This game is long and challenging, filled with puzzles, mini games, and head-scratching situations that can and will frustrate you beyond belief. But the story is intriguing despite some blunders with the fish that annoyed Liz to no end. Read the review for the full rant about the difference between fresh water fish and salt water fish... It's worth it just to see Liz freak out completely.
As usual with our walkthroughs, we have included instructions that will walk you through the entire game from start to finish as well as custom screenshots marked up to show you where all the key items are located. We have also made sure to include solutions to all the puzzles and mini games you'll encounter during gamplay to ensure you never get frustrated if you come across one that you just can't figure out.
The Abyss the Wraiths of Eden Walkthrough was definitely a labor of love, and we hope it helps as you explore the depths of this forgotten city deep beneath the ocean.
Have a wonderful, and, above all, safe New Year's Eve everyone! See you in 2013!