Languages
This guide is availabe in:
Oftentimes when you play a game such as this, you will find that you just can't finish the level in gold time. If you try one method several times and it just doesn't work, you need to come up with something different. Start with a different building first. Work in a different direction. Pyramid Rising has something different in this game and that is the ability and necessity to purchase camels and elephants. On some levels just purchasing the animal will be enough to allow you to finish more efficiently because they allow you to work faster and carry more stone. On other levels, you will find that you actually need to have a certain animal to finish your building task.
The Walkthrough: Each level has a beginning screenshot. This screenshot will show you the goals for the level and starting state. In addition, it will show how much it costs to get past each Nomad, stone requirements for bridges,and what is in each treasure chest. You might want to take a look at the screenshot before looking at the level step-by-step instructions and try again that additional information in front of you. Use the control-F find feature in your browser to enter the specific level you are interested in to get there faster
The following are just a few hints:
Consider restarting the level and press skip all so that you can go your own way. Sometimes the tutorial gives you instructions to do something before you really need to.
Before starting a level, take a good look at what you need to do and make a plan. You can click on uobstructed obstacles to see their cost before starting; just don't click on any houses that have rent to collect or you will start the timer.
Wait before starting until all available buildings have rent available and always start with collecting rent first.
The market is a very important component in this game. You can make a lot of money selling your stone. The market gives you way more money for your stone than the quarry charges in every instance. The more stone you have on hand, the larger amounts of gold you will be offered. At around 1500 stone, you will consistently be offered 5000 gold for 500 stone. In some levels it really pays to build up your stone supply as fast as you can and keep it there to get to this high exchange amount.
Trading with the port is an interesting new twist. These are usually great deals. While you can wait for a new one if you don't want the current one, I thought it was faster to just take the deal offered quickly and then get another one. I suggest taking them unless you don't have the resources to trade with them or you are going to run short if you do so.
The Timbuilders: Pyramid Rising Walkthrough
Level 1
Build 4 huts.
Collect money.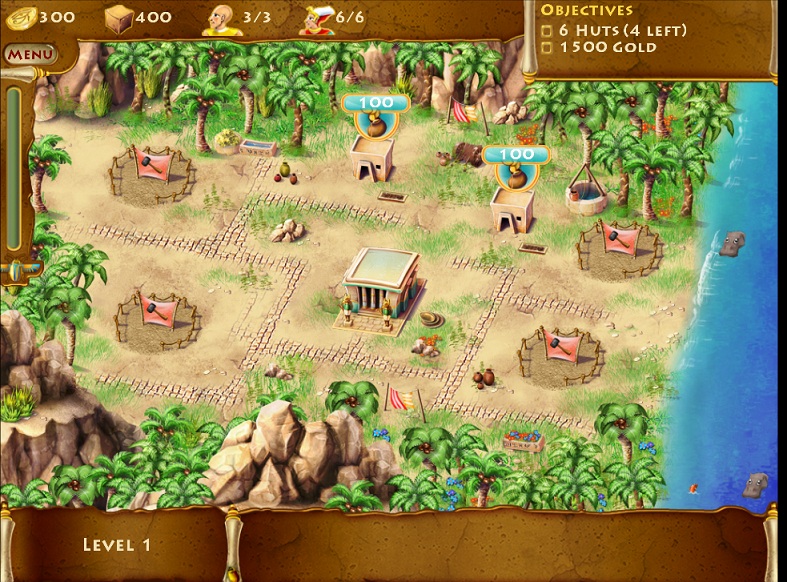 Level 2
Remove all the rocks.
Build the hut as each lot is exposed.
Collect money.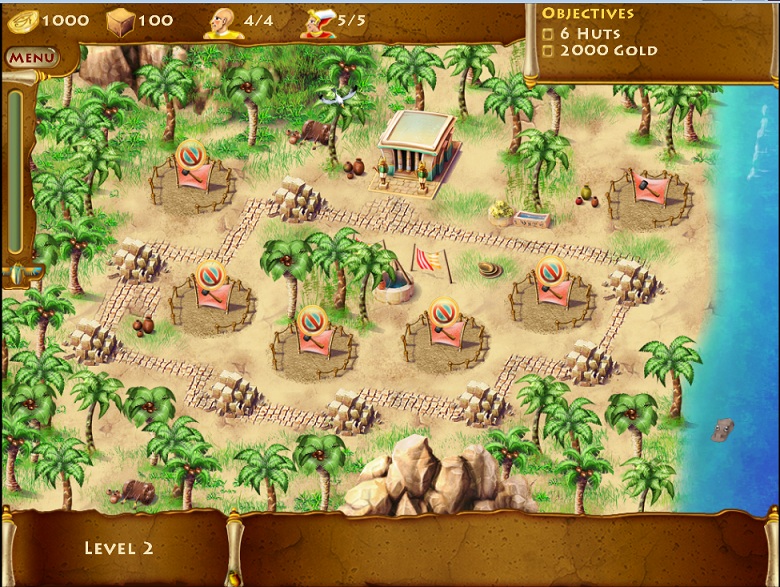 Level 3
Collect rent.
Remove the rocks as you come to them.
Upgrade the 2 prebuilt huts
Build and upgrade 3 new huts.
Collect money.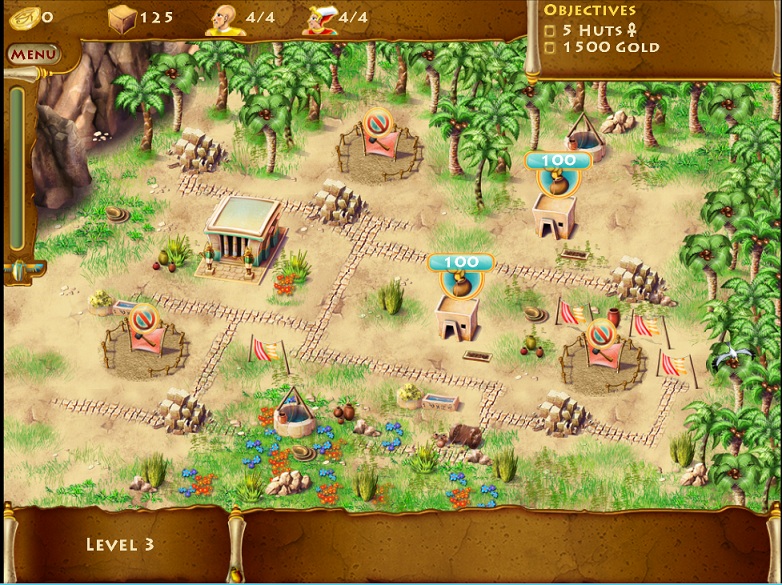 Level 4
Remove rocks in the path
Build 7 huts.
Upgrade 7 huts.
Collect money.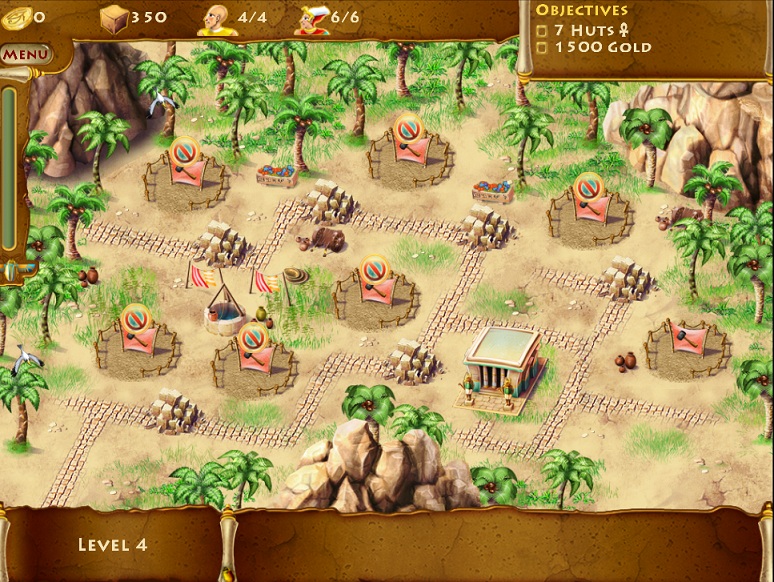 Level 5
Build quarry.
Remove all stone piles.
Buy 125 stone for 500 gold twice.
Build and upgrade buildings. You will have enough stone.
Keep collecting money,
Buy 300 stone for 1000 gold.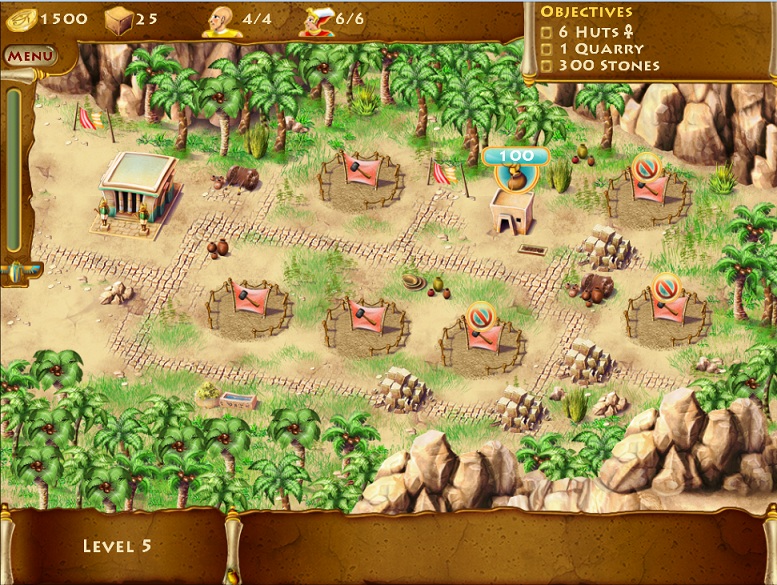 Level 6
Buy 300 stone for 1000 gold. The quarry is to the right of the shrine.
Buy 2 workers and 1 priest
Build hut to left of the shrine.
Start removing stone.
Buy 50 stone
Start building huts and upgrading them; you will have enough stone to meet the goal if you pick up all the stone piles.
Buy 1 more worker.
Buy 2 more priests as you can afford them.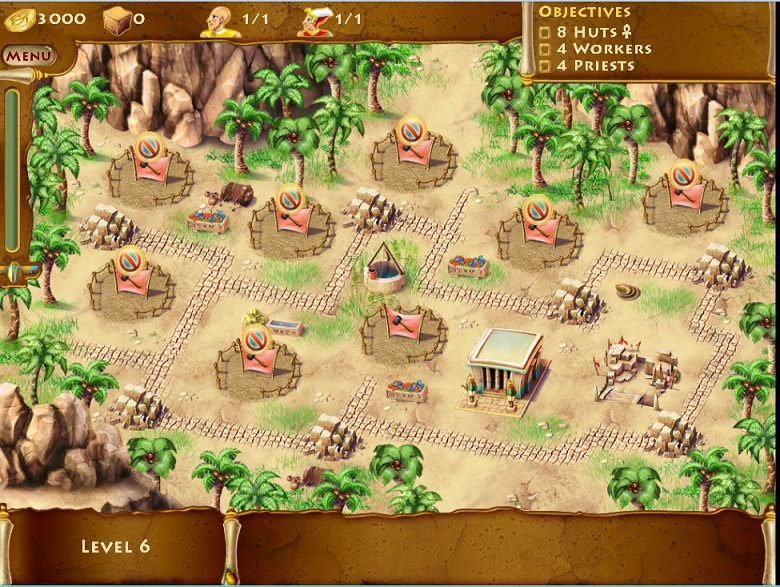 Level 7
Collect rent.
Open chest to the right to get 75 stone.
Remove stones to the left and open the 2 chests for 300 gold and 50 stone.
Remove the 2 stones blocking the vacant lots and the quarry.
Buy 125 stone for 500 gold.
Build 3 huts and upgrade 4 huts twice.
Collect money.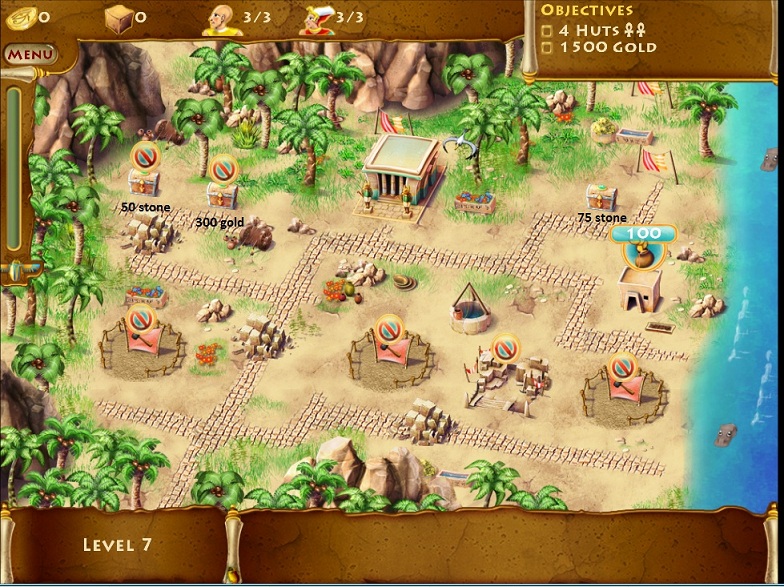 Level 8
Pay 300 gold to barbarian.
Remove stone pile.
Upgrade hut.
Open treasure chest for 500 gold.
Build 2 huts and upgrade 3 huts twice.
Collect 1500 gold to pay nomad.
Remove accessible stone piles and open chest for 300 gold.
Buy 125 stones for 500 gold.
Build and upgrade 2 hut twice.
Collect 2000 for nomad.
Buy 125 stones for 500 gold.
Build and upgrade the hut twice.
Collect money.
Level 9
Don't send anyone to the mural at first.
Remove stones and build 3 huts.
Remove stones and open chests.
Start upgrading your huts as much as you can.
Pay nomad 1000 coins.
Build quarry on the lot behind the nomad.
Buy stones in batches of 125.
Build 5th hut. Assign 2 workers to mural.
Finish upgrading huts.
Keep getting stone.
Buy another worker.
Assign 2 more workers to mural.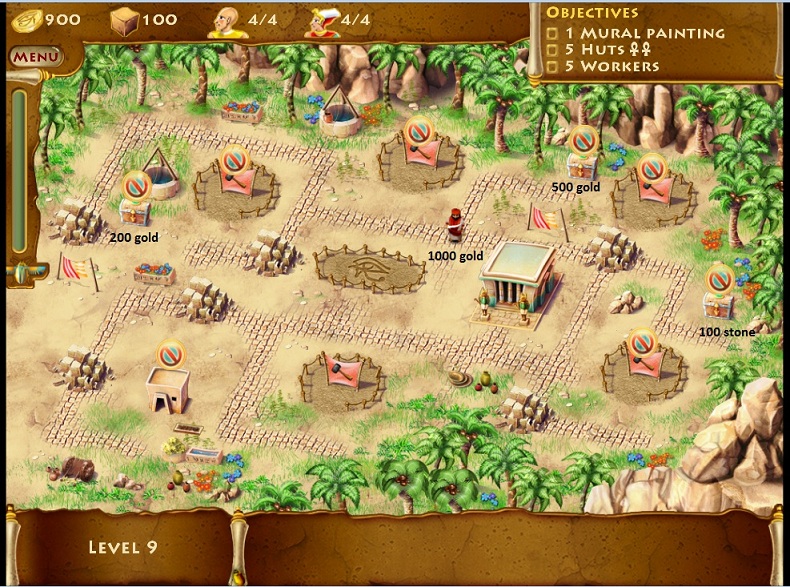 Level 10
Start removing stones.
Open the chest to get 500 gold.
Build quarry.
2nd chest has 300 stones.
3rd chest has 500 gold.
Build huts as you open up lots.
Get to the second chest to get more stone.
Once you have collected 1000 gold, buy 300 stones.
After you buy the batch of stone, just upgrade the huts and don't worry about collecting rent.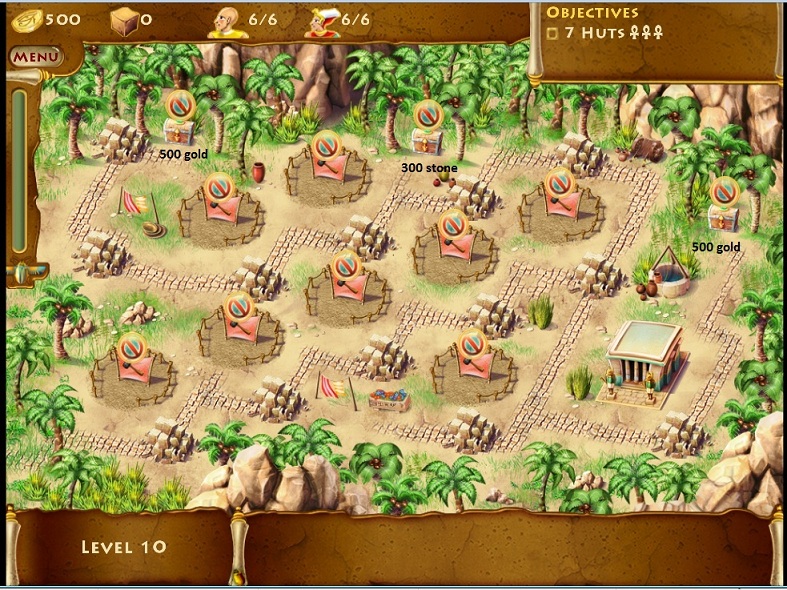 Level 11
You will not be paying off the nomad in the top center.
Give nomad to the right 500 gold.
Get 1000 gold from 1st chest.
Remove stones and start building huts.
Pay off next nomad to the bottom in with 500 gold.
Upgrade huts until you run out of stone.
Collect money.
Pay off next nomad with 1500 gold and the next with 500 gold.
Work down to chest with 200 stone at bottom left.
Build and upgrade the fifth hut and upgrade all 5 huts.
Collect 1000 to build quarry at the last lot and buy 50 stone when you have the time. Collect money goal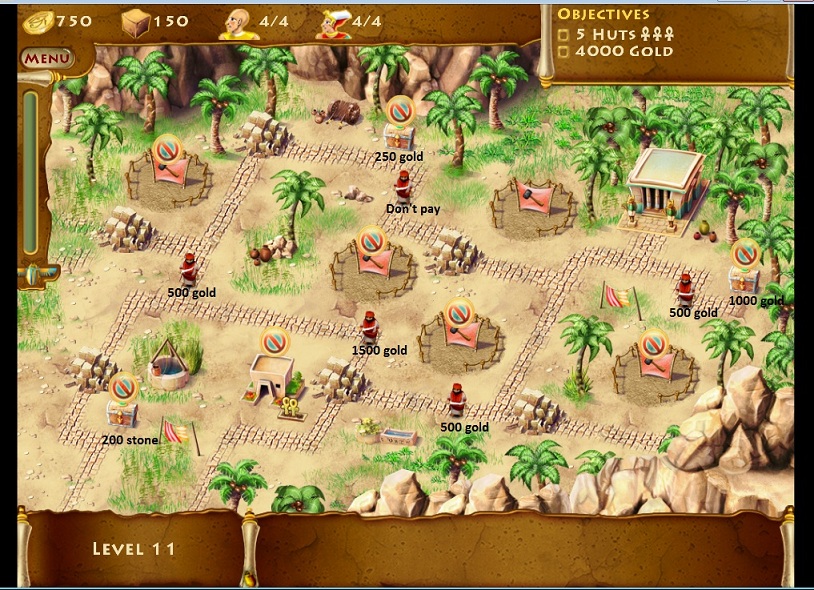 Level 12
Pay nomad at the bottom of the screen with 500 gold.
Remove stone to the sphinx.
Build 2 huts and upgrade as you can while waiting for 1000 gold.
Pay nomad 1000 gold.
Chest has 300 stone.
Buy another worker.
Send 1 worker to sphinx.
Finish upgrading the rest of the buildings.
Buy another worker and send to the sphinx.
Buy 150 stone for 500 gold.
Keep 1 worker for the quarry.
Get a total of 5 workers and have 4 working on the sphinx.
Keep buying stone.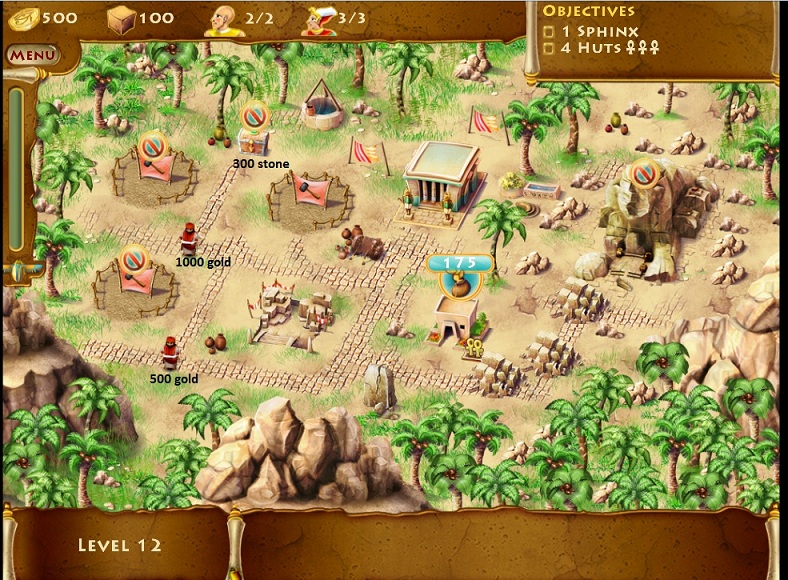 Level 13
Skip building for joy in the beginning.
Buy a worker
Build a hut and open chest for 100 stone (upper right).
Remove stone piles
Open chest
Build 3rd hut and start upgrading
Buy 300 stone twice.
Start upgrading all huts fully.
When first hut is fully upgraded, send 1 worker to port.
Send 2nd worker when all 3 huts are done.
Buy another 300 stone..
Buy 4th worker and send to port.
Build a statue.
Buy another 300 stone
Buy 5th worker and send to port.
Build 2nd statue
Buy another 300 stone
Buy a 6th worker to send to the port if you want; he won't be working very long!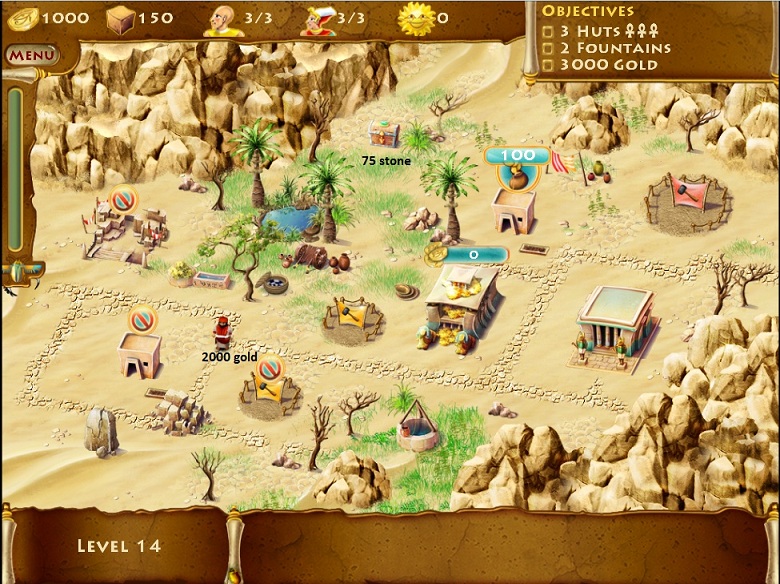 Level 14
Get 75 stone from chest.
Build 1 hut and start upgrading the 2 huts while waiting for money.
Pay nomad 2000 gold.
Buy 125 stone for 500 gold.
Fully upgrade the 3rd hut; don't worry about waiting for rent.
Build 2 fountains.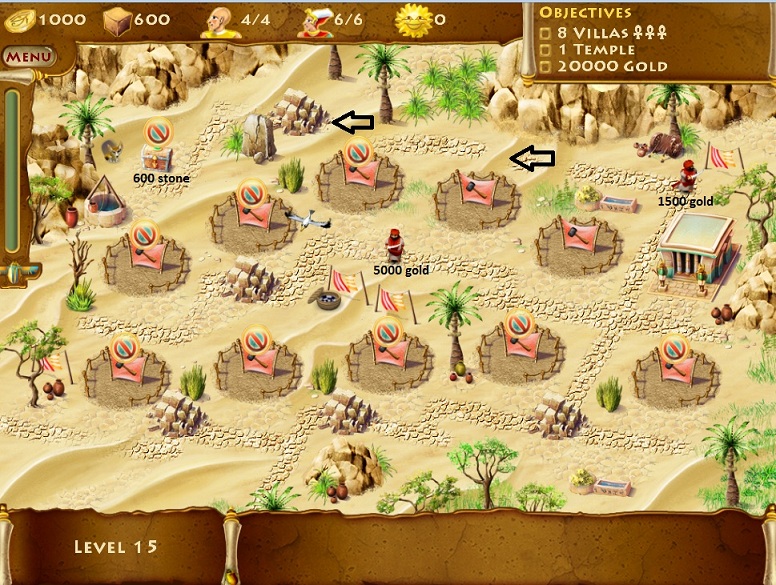 Level 15
Remove stones down at the bottom
Build 3 villas and get 1500 gold to pay nomad to the top.
Save 2 spots for the quarry and the temple
Pay off the nomad and get the chest at the top left for 600 stone
Build temple for 500 stones
Build quarry when you have 1000 gold and start buying stones for 1000 gold
Build 2 more villas.
Keep buying stones as you need them and upgrading the buildings
Pay nomad 5000 gold
Build 3 villas and upgrade them without waiting for rent
Withdraw money from the temple at 1000 coins
Keep buying 300 stones at a time until finished.
Collect rent.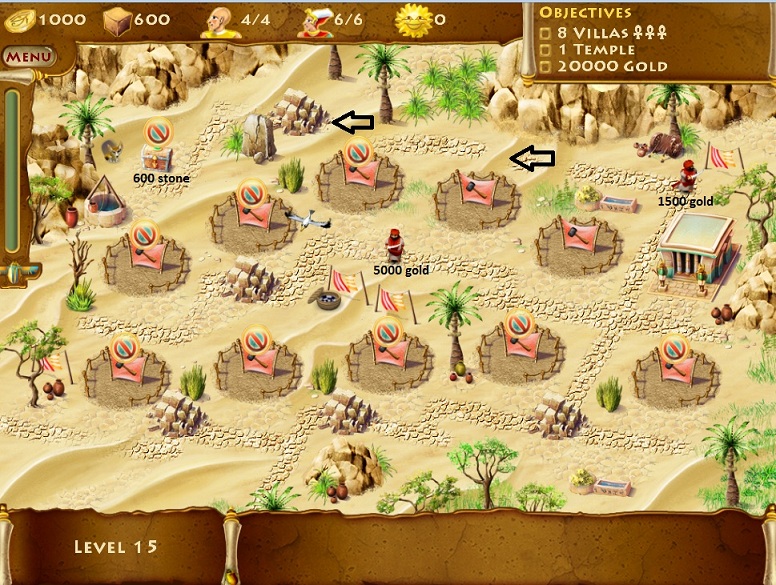 Level 16
Work way through the rock at the top to get to the chest with 500 stone
Build quarry
Remove the rest of the rocks
Trade 50 stone for 500
Buy 125 stone for 500
Build first villa and upgrade fully.
Buy 125 stone for 500
Keep trading stone for money
Pay Nomad who wants 2500 gold
Open the bottom chest
Pay nomad and get down the other chest
Trade again
Buy 300 stone twice more
Build 2 more villas.
Fully upgrade all 4 villas
Keep trading and collecting rent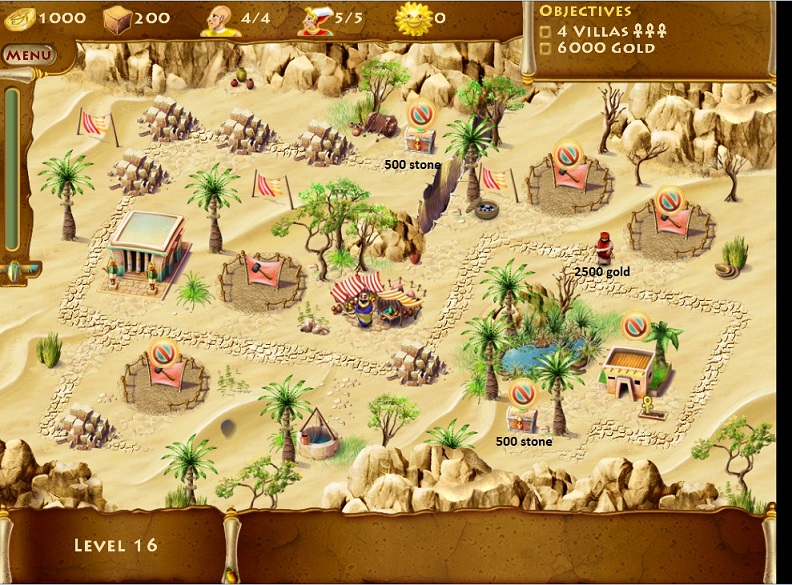 Level 17
Clear rock to markets
Make big dollar deals at the market
Open the chest for 1000 stone
Build quarry and get 300 stone for 1000 stone
Keep getting stone whenever you get 1000 gold
Keep your stone level at 1000 to get big deals at the market
When you are trading to go over 5000 gold, build the last 2 markets.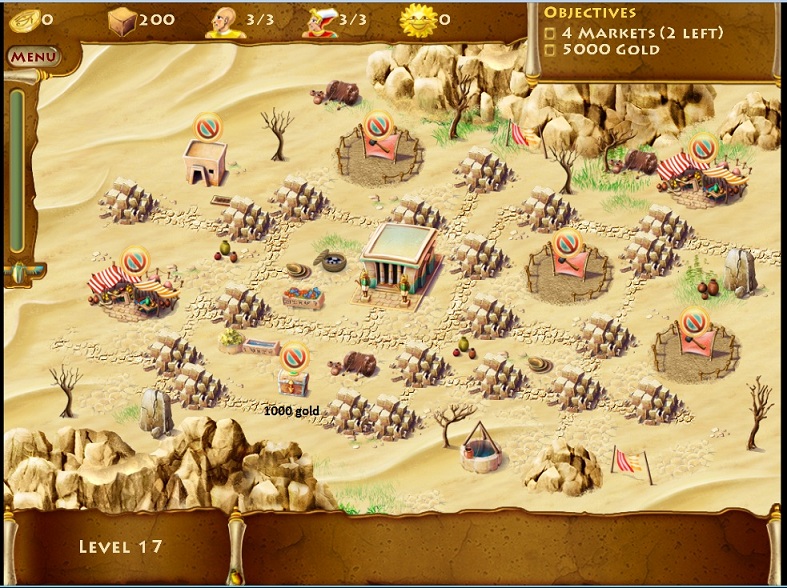 Level 18
Pay nomad to left 1500 gold and hen open chest for 400 stone
Trade for maximum money
Remove all stone piles and open chest at the bottom
Trade for max
Buy camel
Wait for it, wait for it, make the next trade
Buy 800 stone at quarry twice before building
You will now have over 1000 stone and you want to keep it there
Build 2 villas
Buy 4th worker
Keep stone count over 1000 and upgrade the first 3 villas
When all 3 are being finished, use the next trade to pay off the nomad
Build a statue
Buy 800 stone at quarry whenever you have 2000 gold
Build and upgrade the 4th villa
Get the gold from the chest
Make a final trade to get the gold to finish off the stone goal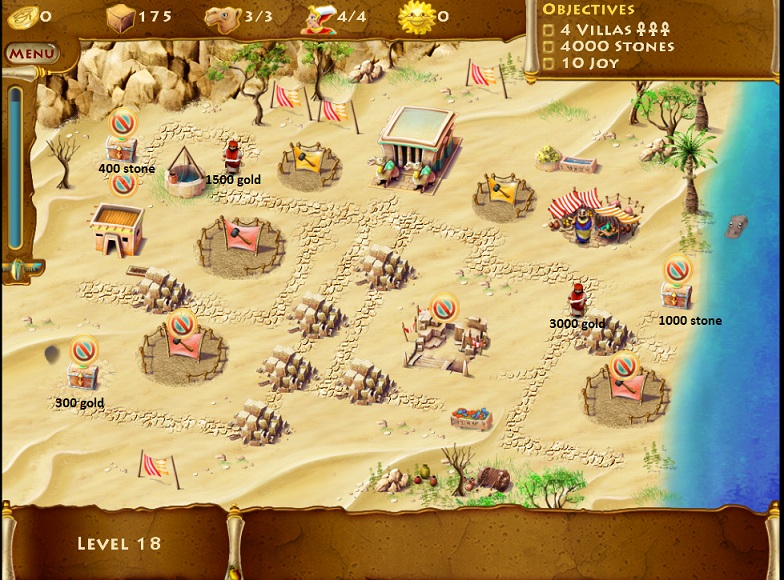 Level 19
Remove rocks and build 2 villas
Upgrade villas fully
Buy 125 stones for 500 gold
Pay nomad 2500 gold
Open chest for 1200 stone
Remove rock to Karnak Temple
Build market and make first deal (should be for 2000 gold)
Deploy 2 workers
Buy camel
Buy stone 800 at a time
Buy 3 workers and deploy to temple
Build obelisks in between getting stones
Don't bother paying off the other nomad.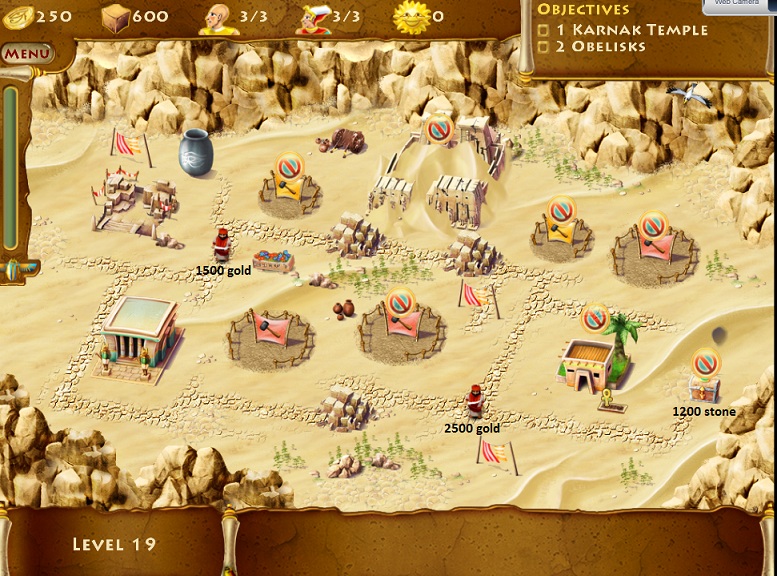 Level 20
Upgrade hut once and upgrade villa fully
Pay nomad with 1500 gold
Destroy the market
Open the chest for 300 stone
Build 2 villas
Pay nomad with 2500 gold
Open chest with 750 gold
Build quarry and start buying stone
Destroy hut and build last 2 villas and upgrade fully
Build 3 fountains
Collect money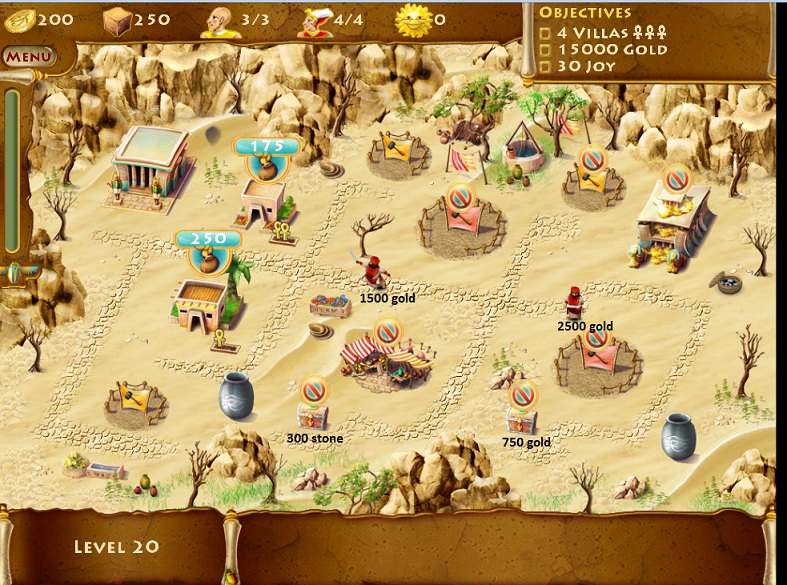 Level 21
The port adds quite a bit of variability in the game.
It's best to take what they have to offer because the next one might be even better
Several times I got a camel upgrade right off the bat
Wait to build anything until you get the first offer
Remove 2 rocks and open the chest for 500 gold, while waiting
Build 2 villas and upgrade fully
Buy 3 workers and send 2 workers to each colossi
Start buying stone
Buy camel if you didn't get one from the port
You should have 2 workers at each colossi and 1 getting stone
Build 2 statues in between quarry runs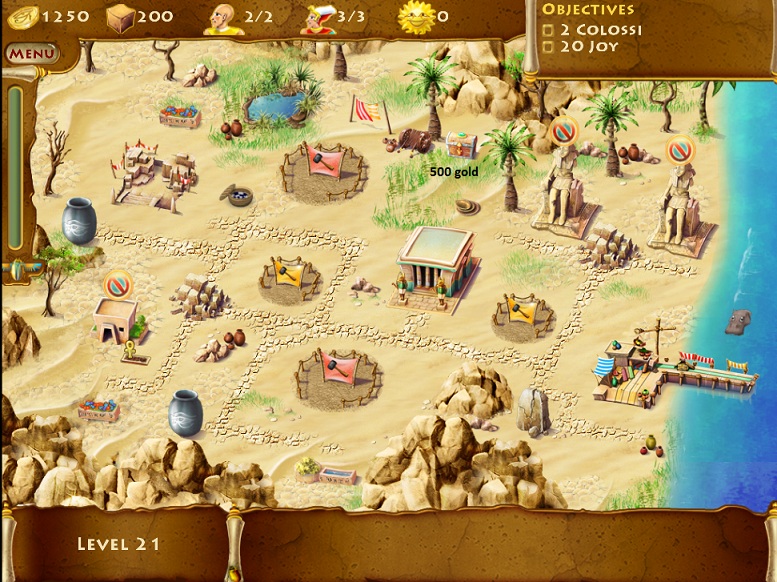 Level 22
I could get gold paying off either nomad but it seemed a bit easier paying of the left one
Remove the stones and get to the chest for 500 stones in the middle of the screen
Build 2 villas and upgrade as much as possible
Pay off the nomad to the left for 2000 gold
Collect 1000 stone from the treasure chest
Pay off nomad to the right
Buy the port option
Buy the quarry
Buy the camel upgrade
Send a couple workers to the pyramid.
Keep a good supply of stone on hand but start buying workers; you can have a total of 7 working the pyramid so you want a total of 8 working.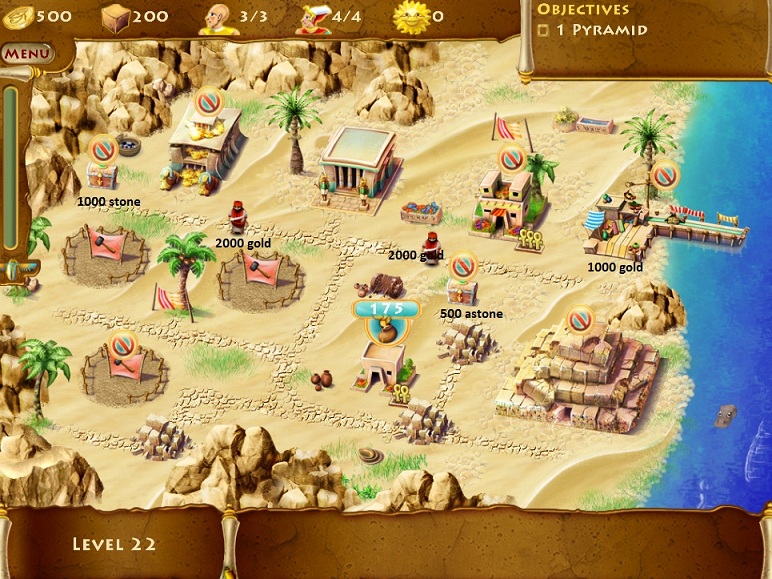 Level 23
Remove rocks and open chests
Build and 1 villa and upgrade the other villa
Build the quarry when you have 1000 gold
Build bridge
Remove stones and open chest
Use the camel upgrade and buy one more worker
Put one worker at each totem
Keep buying stone and trading with market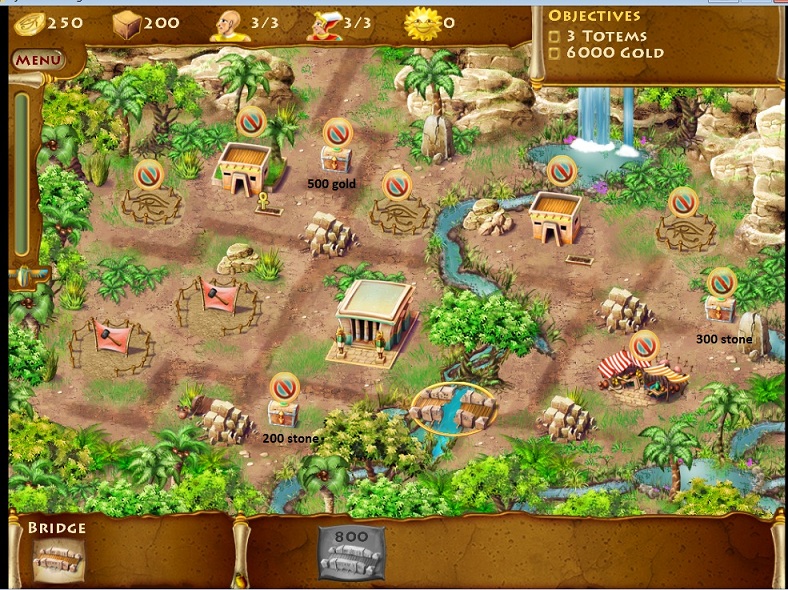 Level 24
Again, the port makes for a lot of variability on this level
Remove stones
Open the port and make first trade
Build villa to left of shrine
Build quarry and buy stone as you can
Fully upgrade 2 villas
Buy camel if you didn't get one from the port
Build an obelisk
Pay nomad 1500 gold
Buy 1000 stones to build bridge to right
Open chest for 3000 gold
Keep buying 800 stones at a time
Build 3rd villa and fully upgrade it.
Build bridge to left for 2000 stone
Build 1 fountain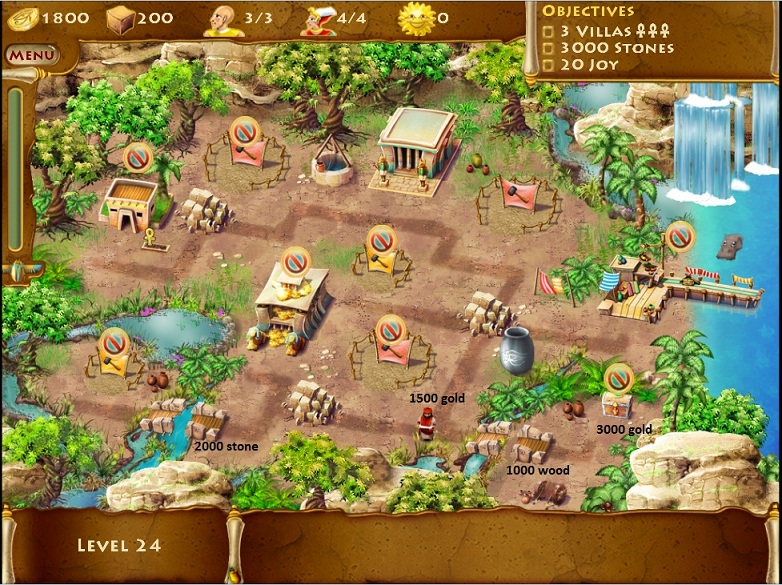 Level 25
Remove stone and open chests with 200 stones and 750 gold
Build 2 villas
Buy 300 stones twice
Fully upgrade 2 villas
Buy camel upgrade
Remove all the alligators
Open the chest with 500 stone
Buy 1 more worker
Build 3 villas and upgrade them without leaving them
Buy 350 stone
Build obelisk and statue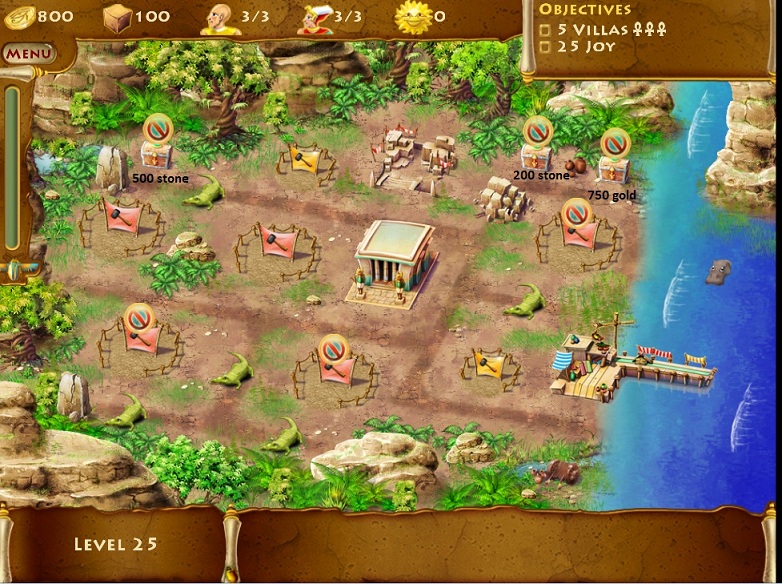 Level 26
Clear stones and open first chest for 750 gold
Leave a lot close to the shrine and build 2 villas and upgrade once
Buy camel upgrade
Remove the 2 upper alligators
Open the chest for stone; don't build.
Remove the alligator blocking the market and make best deal
Upgrade the villas more
Build a quarry for 1000 gold Buy stone
Send 1 worker to mine
Build a statue
Send 2nd worker to mine when both villas are fully upgraded
Pay nomad blocking the temple (don't bother paying second nomad)
Keep buying stones and making good trades at the market
Buy 2 more workers when you have the money right after getting a full load of stones
Keep buying 800 stones at a time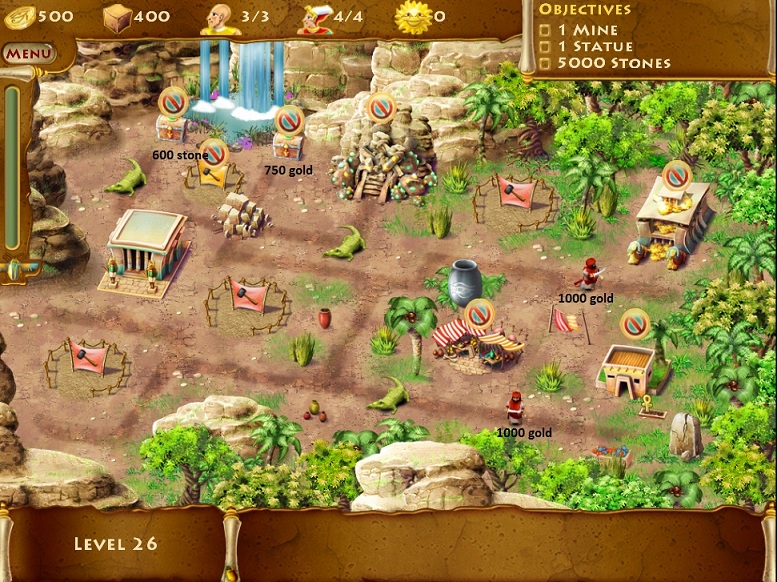 Level 27
Remove rock
Build 2 villas and upgrade as you have stone
Start paying nomads and opening their chests in this order (from left to right) 5, 1, 3, 4, 2, 6 (see image to see exactly what you are buying)
Upgrade the buildings completely on the left
Build a statue
Buy a camel
Remove the alligators
Destroy the market immediately
Build 2 huts and upgrade without waiting on money
Build a statue
Upgrade the other villa
Keep collecting money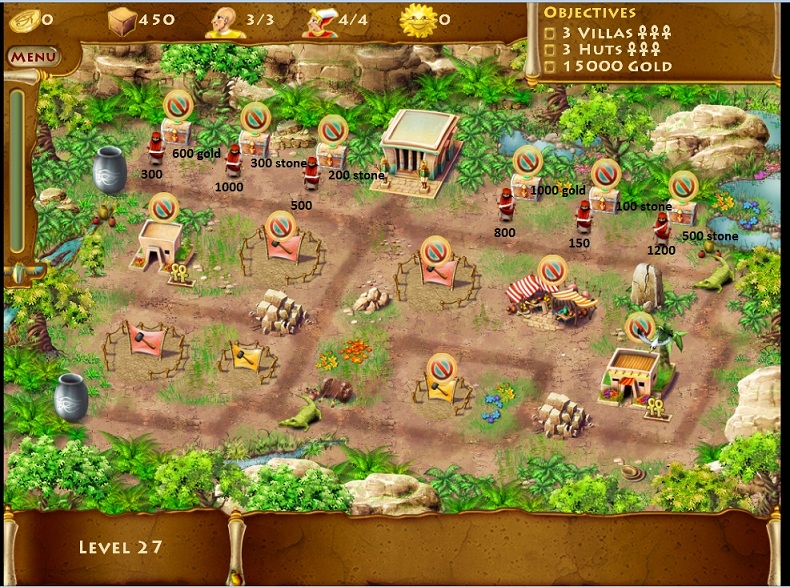 Level 28
Remove 3 piles of rocks
Open chest at upper left
Build 1 villa and fully upgrade the 2 villas
Collect 2000 gold and buy camel
Remove alligator and open chest at bottom left
Pay nomad 2500 gold
Remove alligator and rocks to get down to bottom right
Destroy hut
Buy 800 stone and keep doing so since you don't have a gold goal
Build 2 fully upgraded villas
Build 3 censers and 3 trees to get joy goal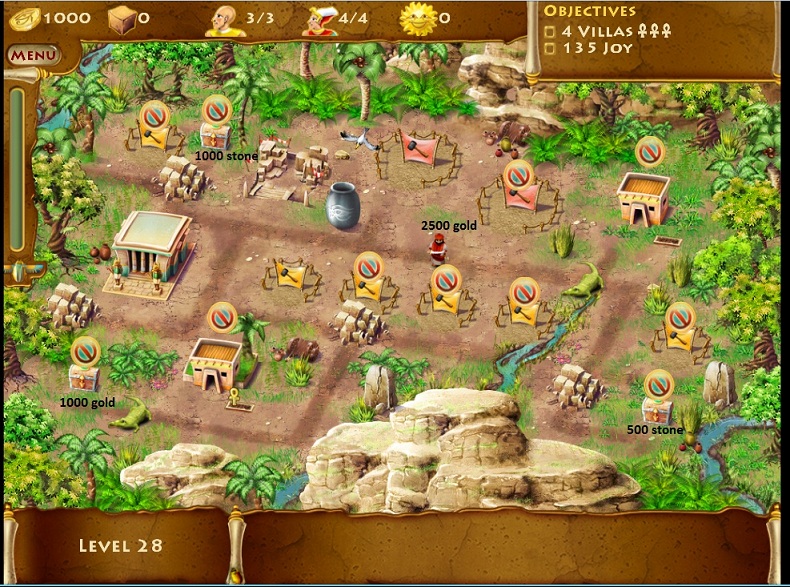 Level 29
Clear 2 rock piles and build villa and upgrade it once
Trade for the highest dollar amount and not the best deal (all the way through)
Pay nomad 1500
Start collecting stone every 1000 gold
Upgrade the two villas fully
After 2 villas are fully upgraded, destroy the hut and build a fully upgraded villa.
The more stones you have the higher gold amounts you will get at the store
Build a tree
Stop buying stone at around 1400 stone and save money
Buy an elephant for 4000 gold
Buy wood for 4000 gold now
Build bridge and keep one worker over there to open the chests
Do one more deal with the market when you have 5000 stones and destroy it
Build a fully upgraded villa
Build 2nd tree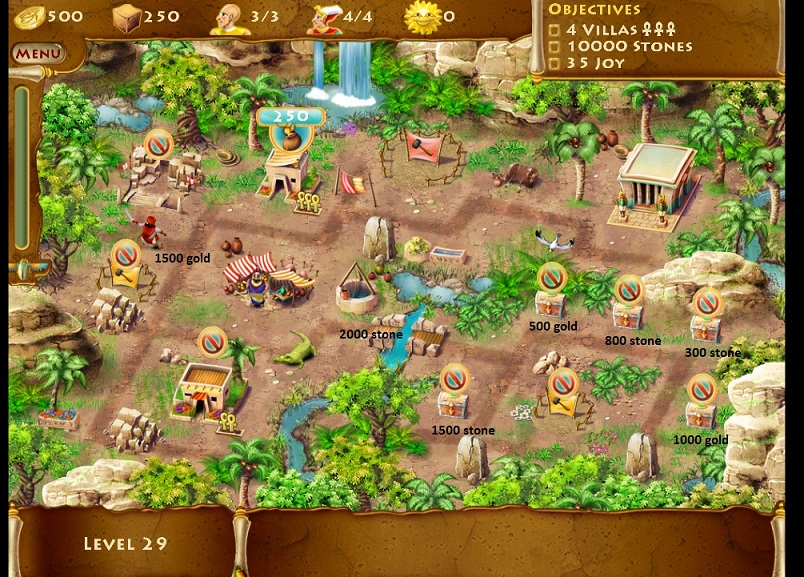 Level 30
Remove 2 rocks and build just one villa
Pay off the nomads to the north and open the chest near the port for 600 stone
Build the bridge to the second chest to get 2000 stone
Build 2 fully upgrade villas
Pay the nomad to the south and start making big coin deals
Pay for the port and start taking what they have to offer
Buy a camel and clear the alligators
Build another fully upgraded villa
Pay 3000 coins to nomad and upgrade the villa
Keep making deals to maximize money
This level is totally dependent on the quality of deals you get, so just try again if you don't make it.
If you have enough stone you can consider building some "joy."
Level 31
Remove 2 stones and build a villa
Open the chest for 1000 gold
Build another villa and don't forget the third villa
Remove the 3rd rock
Buy a camel and remove alligators
Open chest with 1500 stone and keep upgrading the first 3 villas and build a 3rd villa near the temple
Pay off the nomad blocking to the right; don't pay off the nomad blocking the temple
Remove alligator and upgrade the 5th villa.
Build a quarry; once the first 5 villas are upgraded you will need about 3000 stones to finish up.
Build censers and your money will start increasing. Each censer costs 500 gold and a fully upgraded villa costs less than 500.
Destroy the quarry once you are sure you have enough stone and build a fully upgraded villa.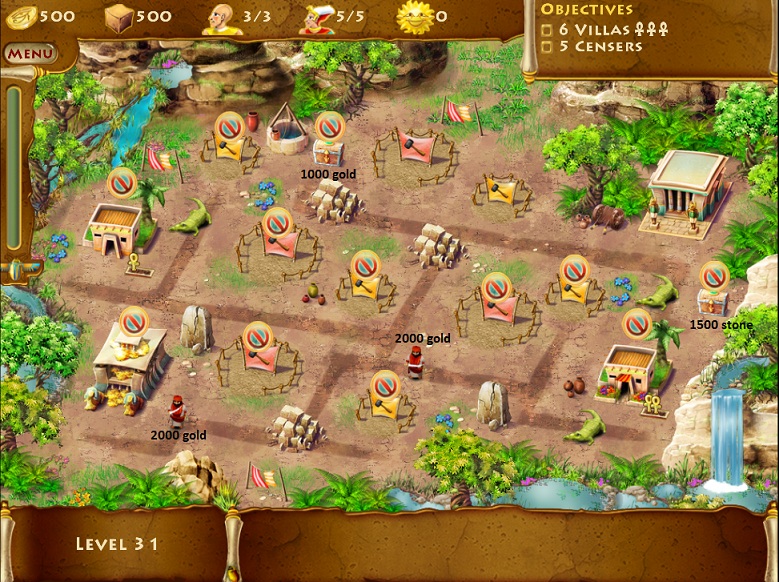 Level 32
This level is very dependent on what deals you are given at the port. I tried playing it without the port but I couldn't do it.
Remove the 3 stones to the left
Build a villa and don't upgrade it
Open the port when you get 1000 gold. Only take deals for gold, stone, and animals (and of course only the ones you can afford)
If you don't get a deal on an animal from the port, buy a camel and remove the alligators
Buy a market when you have 500 stones (from either the port or the chests)
Open the chests
Make big deals at the market and
Buy stone as you can afford it
Send 2 workers to the temple
You will need to get an elephant upgrade and then hire 3 more workers.
When you have plenty of stones, build 2 trees.
Keep supplying stone.
If you don't get it the first time, try again and hope that you get a better set of deals. I have had offers for elephants for 2000 gold or 400 stones and lots of money or stone, so just keep trying. Just be sure to get enough workers to the temple.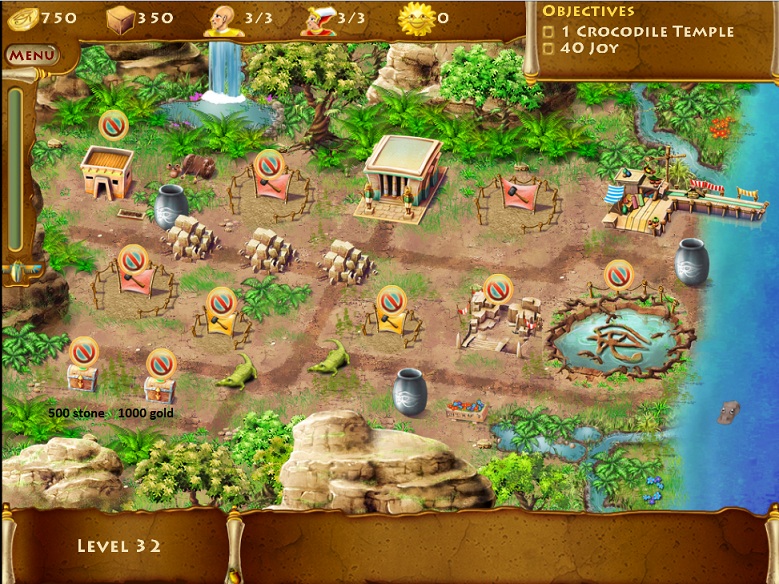 Level 33
Collect rent
Remove stone and upgrade the palace
Open the chest for 750 stone
Demolish the market
Build quarry
Finish upgrading palace
Collect 300 stone for 1000
Build another fully upgraded palace
Stop buying stone when you have enough to finish building
Build a tree
Pay nomad 4000 gold
Buy 3rd worker
Remove next rock and get the chest even though it looks like you can't
Destroy market
Buy an elephant
Pay nomad for 3000
Buy 4th worker
Send 3 workers to lighthouse
Buy 900 stones; don't wait for 4000 gold.
Buy another worker and send to light house
Buy 900 stones
Buy another worker and start building the rest of the palaces and trees
You don't need the market or the port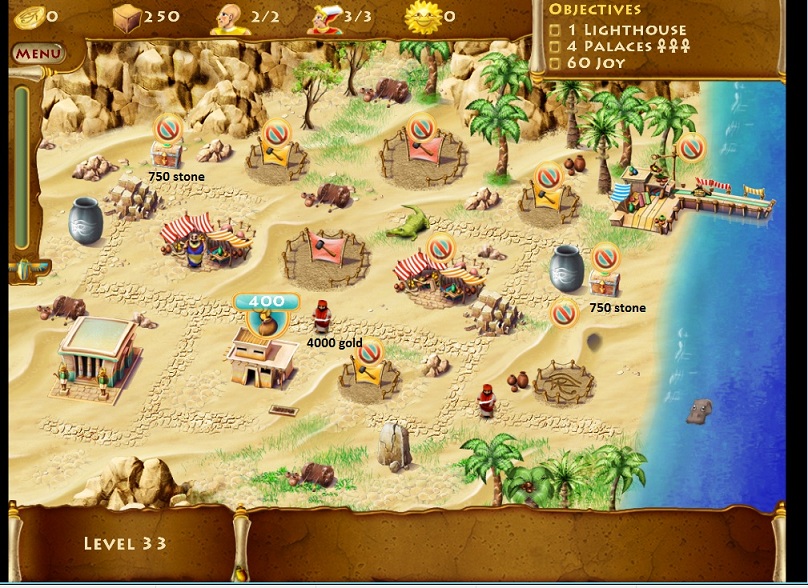 Level 34
Pay off the nomads blocking the chests and palace (see black circles)
Open the port
Open the chests
Upgrade the palaces fully
Now again the port is completely variable, just keep buying stuff. I've received an elephant, a camel, lots of money, lots of stone. It just depends.
Next nomad to pay is the one blocking the temple.
Then pay a nomad blocking a building spot and build a censer, 3 times.
Pay the nomad blocking the quarry last unless you used some stone to trade.
Buy a camel if you don't get an animal through the port and you don't get a bunch of stone through the port
Buy just enough stone to get to the 2000 stone gold
Lastly pay off the nomad to the bottom villa; however, I played several times without paying him off and did fine.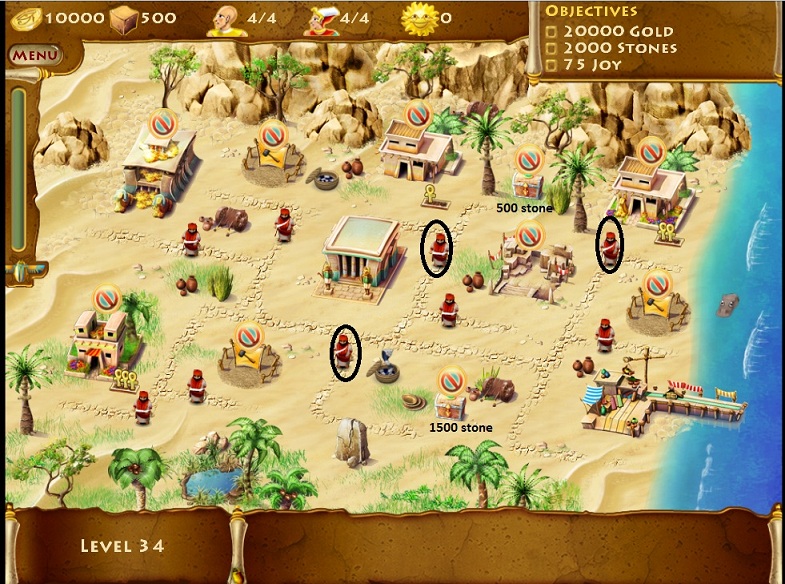 Level 35
Remove rocks in 3 directions
Remove 4th block toward nomad
Build bridge to right (400 stone)
Open chest and trade 75 stone f or 750 gold
Pay off the nomad
Open the next chest and remove the stone blocking the palace
Build quarry
Keep trades up with market until you have built the second palace
Upgrade the palace
Keep sending for 300 stone and fully upgrade the palace
When you have collected enough stone to build the first bridge for 800 stone and you have just made a trade, build the bridge
Buy an elephant
Build the upper left bridge to get the gold; destroy villa and build and fully upgrade the palace (without waiting for rent)
Build the last bridge and open the rest of the way to the temple and chest
Buy a worker
Build and upgrade a palace
Destroy the temple (treasury) and build a fully upgraded palace
Keep getting stones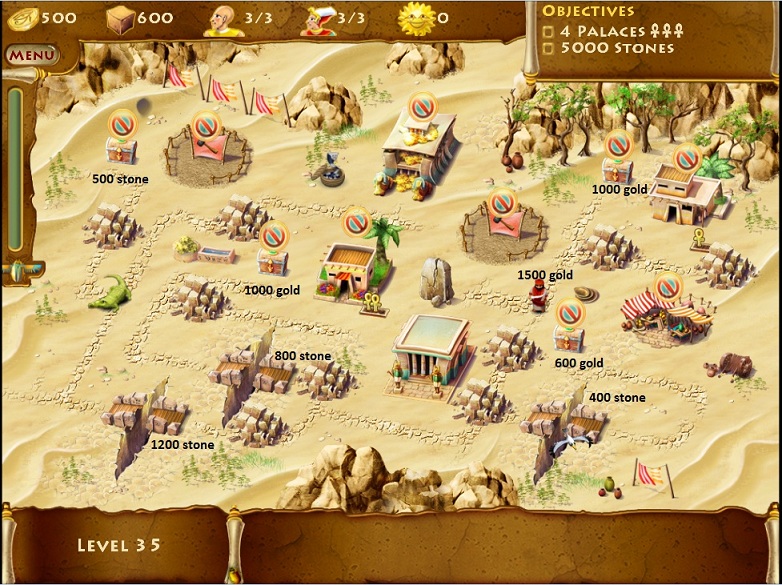 Level 36
Remove 2 rocks and open chest to the left
Trade at the market (and keep doing so throughout this level)
Buy an elephant
Build a quarry
Clear the alligators
Buy another worker
Open the chest
Remove the stones blocking the building sites
Pay nomad
Send a worker to build temple
Build and upgrade 2 palaces
Buy 2 more workers and send to work
After upgrading the palaces destroy the market and build palace
Send 4th worker to build when palaces are done.
Build 2 censers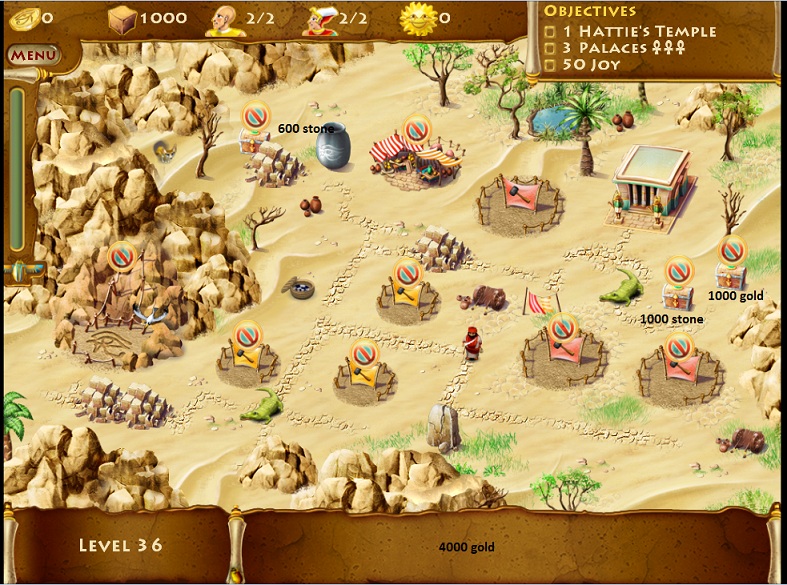 Level 37
Remove rocks to the chest and toward the bridges but not to the vacant lots
Open chest
Remove rock toward the market
Make a trade
Build the quarry
Keep buying stone in 300s, building and upgrading a palace, and selling stone until the stone level gets to about 1500 to maximize sales
Pay off nomad
Destroy villa at the end and build up the palace
Buy an elephant
Buy 3rd worker
Destroy the temple and build the palace
As you finish the 3rd palace, destroy the market and build a 4th palace
Buy a 4th priest
Build 4 trees
Build the lo bridge across and open chest
Build 2 eyes of ra
Build another bridge and the last 2 eyes of ra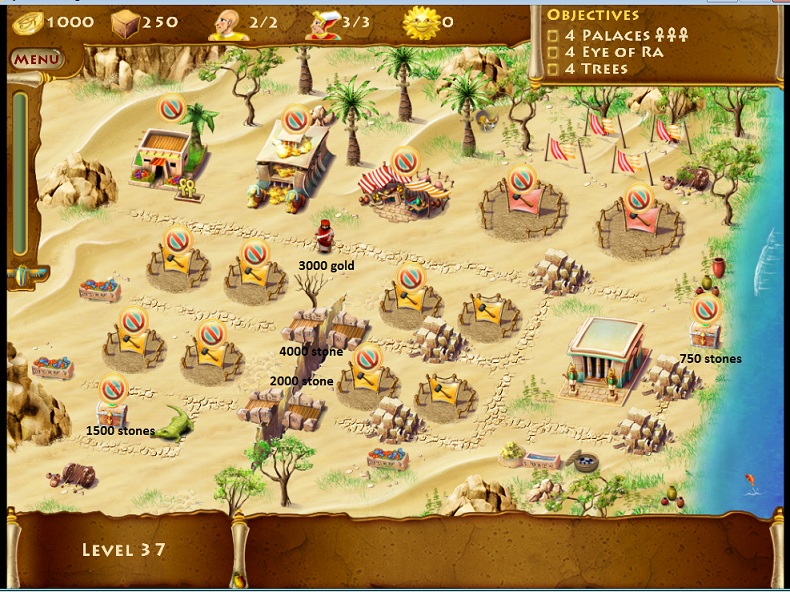 Level 38
Buy 3 workers and send the first two to remove rocks
Open all 3 chests
Build quarry
Buy camel
Remove rock down the middle of the 4 vacant lots
Buy all the stone you can afford, including a half load
Build 2 palaces
Buy 2 priests
Upgrade the palace after each rent cycle
Remove the 2 remaining rocks while waiting to buy stones
After the final palace upgrade, send the workers to build 2 villas.
Upgrade villas by keeping the worker there. Don't even try to collect the rent; you don't need it.
After finishing the villas, destroy the quarry once you have about 1000 stone to build the 2 huts
Build and immediately upgrade the 2 huts to finish up.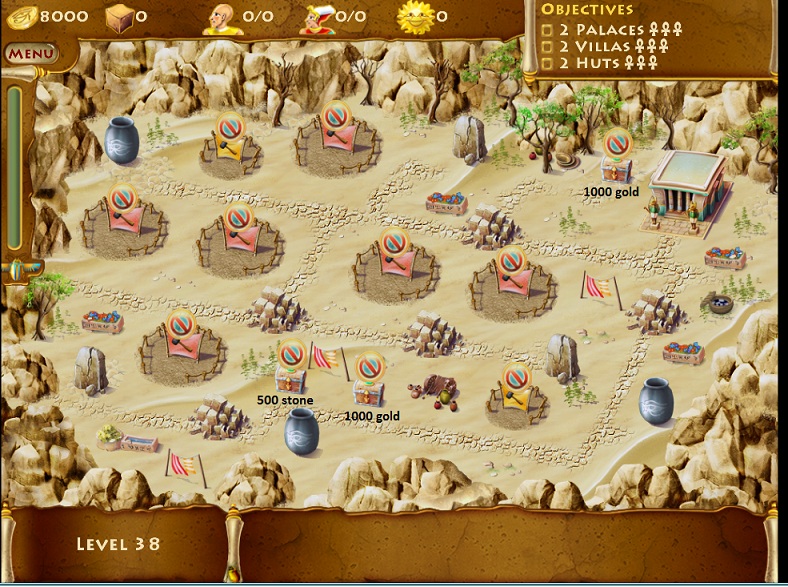 Level 39
Remove 2 rocks
Pick up rent
Remove the 2nd two rocks
Build a palace
Collect rents on 2 palaces, 1 hut, and temple
First 2000 gold, buy camel.
Frighten off alligator
Open chest
4000 gold, pay nomad at bottom right and open chest for stone
Build an Eye of Ra first
Upgrade the two palaces fully
4000 gold, pay nomad blocking 2nd temple
4000 gold, pay nomad blocking 3rd temple
Destroy hut and build quarry
4000 gold, buy elephant
Start buying stones in batches of 2000
Buy 2 more priests
Build and fully upgrade the 3rd temple without waiting
Destroy the rightmost temple and build an upgrade palace (don't wait for money)
When you get 8000 stone, get one more load and destroy the quarry (you want 8000 stone for the bridge and another 2000 for the final building)
Build the bridge and build the last palace
Build the Eye of Ra
Open the last chest with some gold (quantity unknown; you try to remember to see how much it is because it is busy!)
Collect the gold.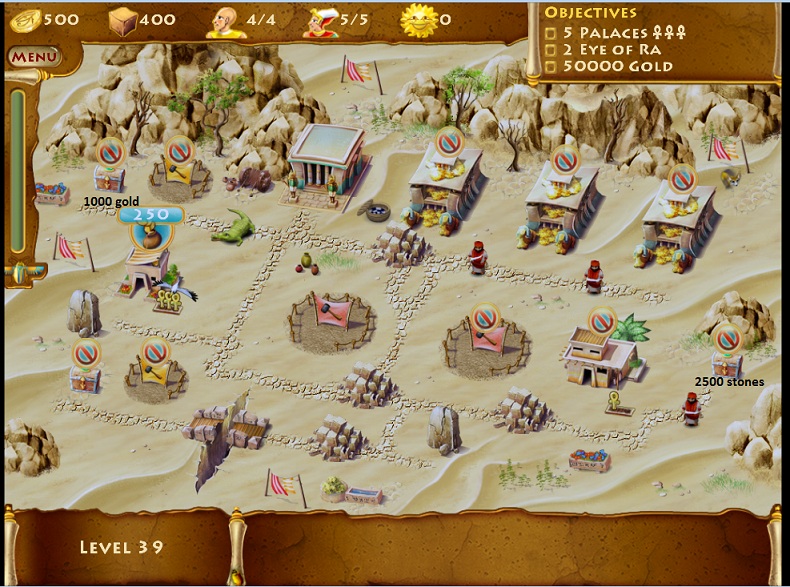 Level 40
You can go around the alligator before you remove it.
Remove the 2 stones blocking the palace and the 2 stones blocking the building site.
After the 4 stones are removed, remove the stone blocking the market and make a trade
Buy a camel and remove the alligators and open the chest
Build a quarry when you have 1000 gold and buy as much stone as you can afford; you should get the stone in before the next trade
Make the next trade and build market
Get stone and build the next market
Keep making maximum market deals and buying stone
Buy an elephant
Pay off the nomad and open chest twice
Start sending workers to the work site. Keep 2 back until you have opened the last chest.
Start buying workers and sending them to the worksite until you max it out at 10 workers
Buy stone when you get close to 2000
When all the workers go back to the shrine, click on the temple and send them all back to now use gold.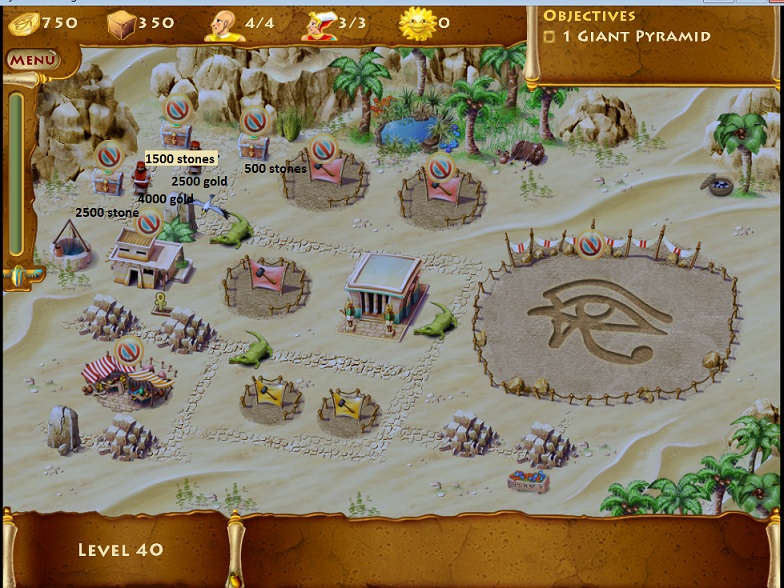 ---
Content(s) of this game guide may not be copied or published on any other site without permission from Casual Game Guides. ©CasualGameGuides.com 2006 - 2021