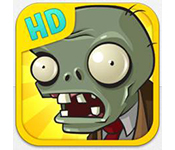 Plants vs. Zombies HD
Get ready to soil your plants in this high-definition, multi-touch adaptation of the PopCap hit! Winner of over 30 Game of the Year awards.* Plants vs. Zombies was spawned from the fertile minds that created Bejeweled, Peggle, Zuma and Bookworm. WINNER OF OVER 30 GAME OF THE YEAR AWARDS* A mob of fun-loving zombies is about to invade your home. Defend it with an arsenal of 49 zombie-zapping plants that will slow down, confuse and mulchify all 26 types of zombies before they reach your door.
Comments: Compatible with iPad. Requires iOS 4.3 or later.
Genre: Action
SubGenre: Defense
ESRB: Everyone

Current Download Rank: #1000

Plants vs. Zombies HD Screenshots