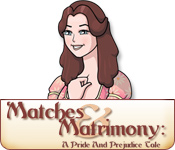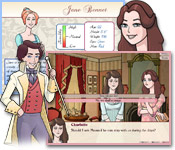 Matches and Matrimony: A Pride and Prejudice Tale
Help a Bennet sister find a husband as you take a starring role in Jane Austen's most popular novels in Matches & Matrimony! Will you pursue Mr. Bingley, whose good nature has already endeared him to your sister, or perhaps Mr. Darcy, the famous protagonist from Pride and Prejudice? The narrative of Matches & Matrimony comes from the combining of 3 different novels, allowing you to create new storylines from Miss Austen's most famous works!
Unique gameplay
Incredible storylines
Find a husband!
Genre: Action
SubGenre: Adventure
ESRB: Everyone
Free Trial: Yes
Current Download Rank: #2034

Matches and Matrimony: A Pride and Prejudice Tale Screenshots