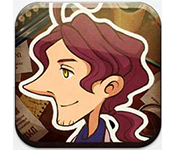 Layton Brothers Mystery Room
The latest game from the PROFESSOR LAYTON adventure game series that has shipped over 15 million units worldwide! LAYTON BROTHERS MYSTERY ROOM is a new crime-solving mystery game featuring none other than the son of the great Professor Layton! Genius investigator, Inspector Alfendi Layton and his newly assigned assistant, Detective Constable Lucy Baker, research only the most extraordinary cases in the "Mystery Room" deep within Scotland Yard. Investigate the evidence, find the contradictions, and unravel the truth that lies shrouded in mystery!
Comments: Compatible with iPhone 3GS, iPhone 4, iPhone 4S, iPhone 5, iPod touch (3rd generation), iPod touch (4th generation), iPod touch (5th generation) and iPad. Requires iOS 4.3 or later. This app is optimized for iPhone 5.
Genre: Puzzle
SubGenre: Brain Teaser
ESRB: Everyone

Current Download Rank: #1000

Layton Brothers Mystery Room Screenshots