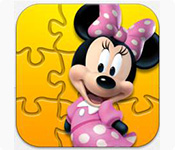 Disney Junior Minnie Mouseke-Puzzles
Minnie Mouseke-puzzles brings video jigsaw puzzles to the iPad, iPhone and iPod Touch! Designed for the Disney Junior fan in your family, mouseke-puzzles are intuitive but challenging, with puzzle pieces that are fun and easy for small hands to move into position. And each puzzle, once successfully completed, magically transforms into a video starring Minnie Mouse and her friends!
Comments: Compatible with iPhone, iPod touch, and iPad. Requires iOS 4.3 or later.
Genre: Puzzle
SubGenre: Brain Teaser
ESRB: Everyone

Current Download Rank: #1000

Disney Junior Minnie Mouseke-Puzzles Screenshots