Spanish archaeologist Pedro Alvarez uncovers a mysterious ancient box and begins to research its significance. What he finds is clearly disturbing as he quickly hands the artifact to his younger sister, Carmen, instructing her to trust no one and sends her off. Shortly after, Pedro's maimed body is discovered in his museum by his employees. Now, you must gain Carmen's trust and work together to ward off the evil forces and fulfill your destiny as Keeper of the ancient secret.
How's that for an epic storyline?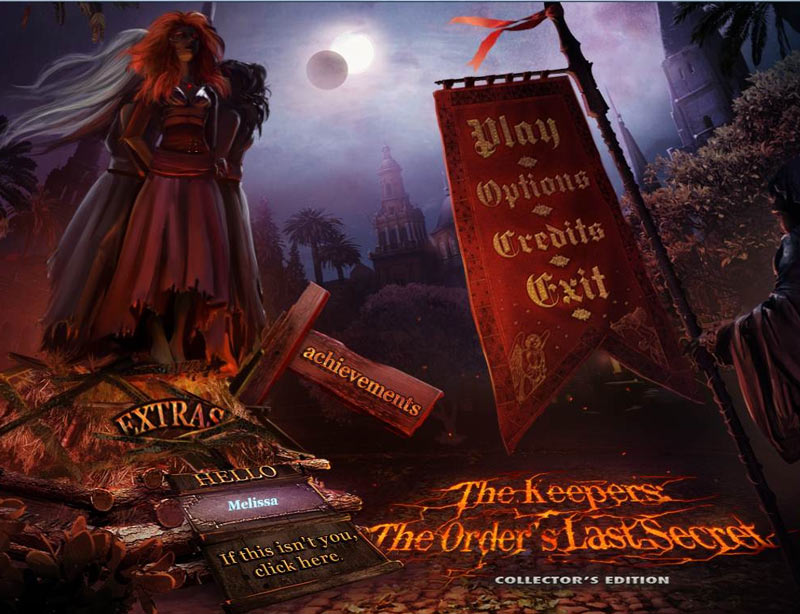 The Keepers: The Order's Last Secret is a truly enjoyable and quick playing game. I had about an hour to wind down my Monday night and figured I would play for a few minutes to see what it was all about. Before I knew it, an hour had passed, and I was hooked on the game, having gone much deeper into the story than I had anticipated. As someone with little free time and not much patience either, I appreciate a game that allows me to dive right in and feel accomplished and The Keepers does just that.
Your journey takes you to Seville where Pedro Alvarez has been savagely killed shortly after unearthing a mysterious ancient box. You begin to gather clues around the town and in his museum to unravel the mystery. The crystal clear graphics make the cut scenes seem like live action, if it weren't for the flying witches and fire-breathing bulls. The soundtrack sets the tone for eerie discovery as you search for objects to complete tasks.
While there is a lot of travelling between scenes to use objects, the locations are near each other and a map is available to jump if you don't want to step through each adjoining scene.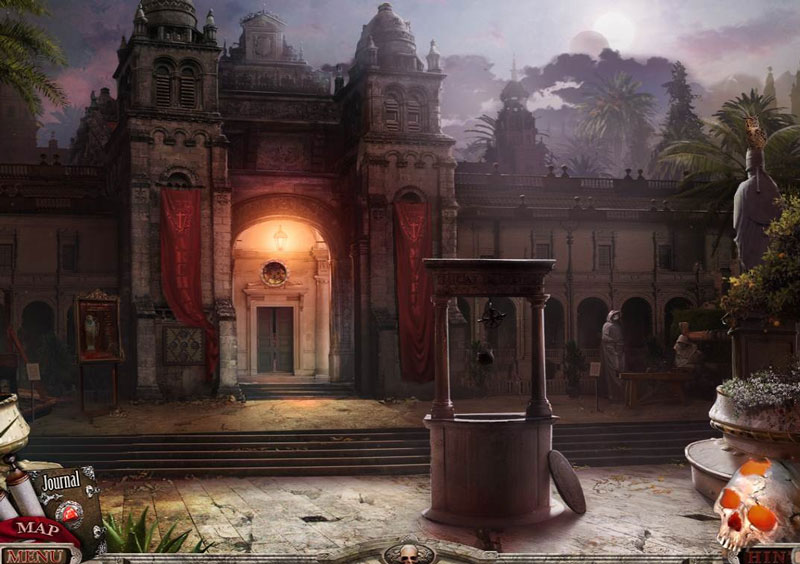 The hidden object scenes in The Keepers are well done – not too dark or cluttered – and I actually found them quite easy. Some objects require interaction to be discovered but the on-screen directives in Casual Mode will suggest what you are looking for.
You can earn achievements by completing the scenes without assistance which is easily accomplished. The HO scenes are spaced out enough that you don't grow tired of them and there is a decent amount of gameplay in between.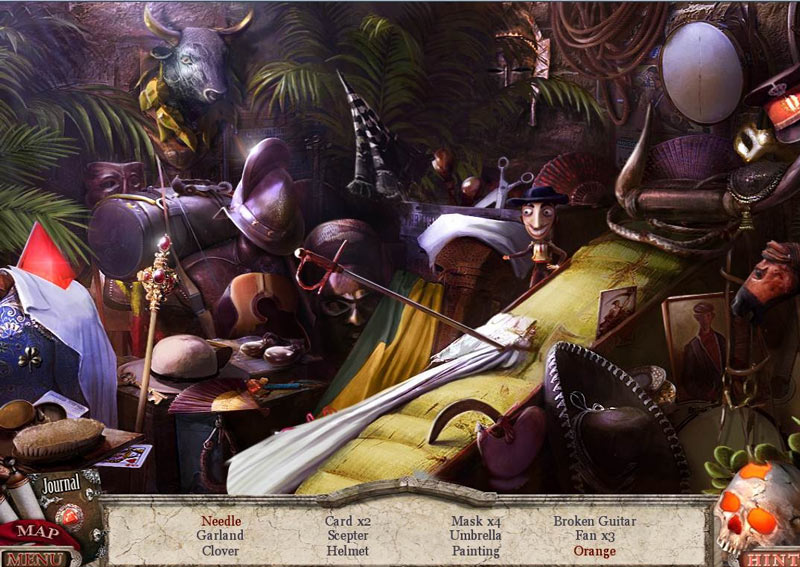 Wandering through the scenes, I kept sensing movement out of the corner of my eye and I finally caught one – there are 35 morphing objects to be found throughout the game. I love these mini hunts that weave their way through the story and pop up when you least expect it. A running total appears on screen when you identify a morphing object, so you can see how accomplished you are! There are no hints or indications on the map where these objects will appear so just keep an eye out.
The mini games varied in their difficulty ranging from super simple to annoyingly difficult – I didn't have the patience for a few of them, but maybe that was due to a long Monday! Luckily a skip button is available, but you miss out on achievements when using the feature. I thought some could have used better guidance – more than once, I thought I had completed the task, but I must have missed something as the puzzle didn't solve.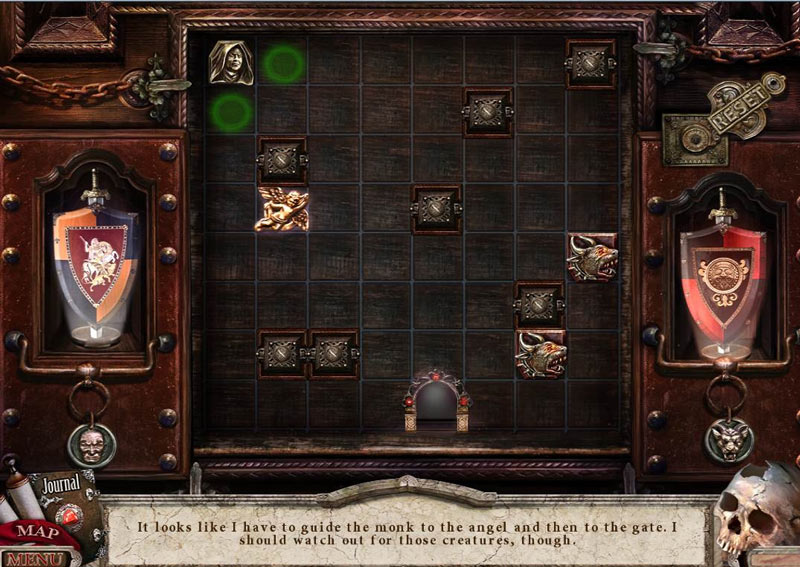 The strong Spanish theme of The Keepers carried through well from the architecture to the HO objects referencing Conquistadors and bull fighting.
The Spanish accents in the voiceovers leave something to be desired though and the Spanglish dialogue was a little annoying. Aside from that, the reflection of Spanish culture was accurate and a refreshing change from other games I've played recently.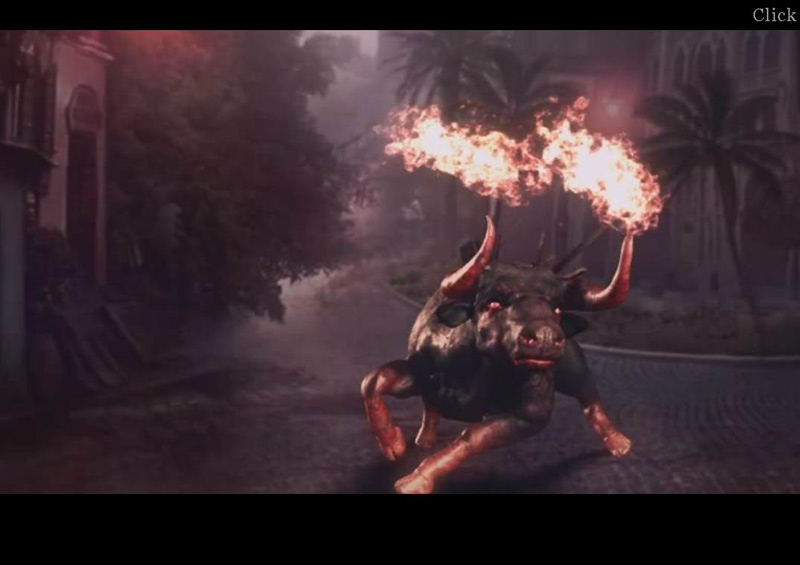 Doesn't he look fun to play with?
In the end, an hour was not enough time for me to have with The Keepers: The Order's Last Secret, and I'm anxious to carve out some more free time to go back and help Carmen solve the mystery of her brother's death…and find out what is in that darn box!