Mythic Wonders: The Philosopher's Stone features young Emma as she searches for her missing Uncle Alfred. Alfred and Emma had been working on assembling a portal to another world, based on directions Alfred found in an ancient manual. Once it was constructed, Alfred discovered how to activate its powers and disappeared into the mythical world beyond. Emma sets out to rescue Alfred and uncover the secrets behind the Philosopher's Stone.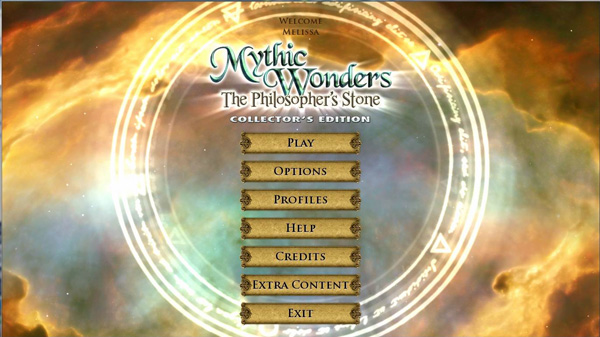 From the opening cut scene of Mythic Wonders: The Philosopher's Stone, I had a bad feeling I was in for a cross between a bad 80s cartoon and a cheesy, melodramatic soap opera. The animation seems like it was intended to be retro, but to me it comes across as cheap rather than hip. There is very little movement and the colors and actions are very reminiscent of an old school cartoon.
Fortunately, once I got into the game, I noticed much more detailed scenery with brighter colors and crisper graphics. The dialog continued to be over the top though, and I skipped through as much as I could.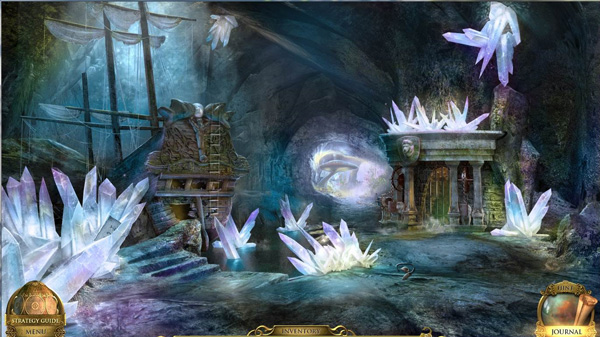 I also felt that Mythic Wonders: The Philosopher's Stone was a little light on some features I expect in a CE version. There were only two levels of play available – easy and hard. No option to customize the level of difficulty or take a middle of the road approach if you are a somewhat experienced player.
I opted for the casual mode but it was really quite easy – even without requesting interactive help, I noticed several hints that popped up on screen. On the positive side, the advanced version contains more difficult mini-games as well as the typical lack of quick hints and skip options.
I'm not necessarily big on collectibles and achievements, but I know that's a feature many expect in a CE, and I didn't find any in Mythic Wonders: The Philosopher's Stone. There are morphing objects, but I found them very difficult to identify and gave up my hunt after a few scenes.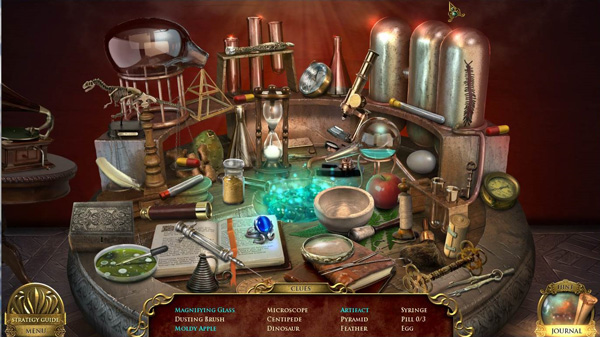 The hidden object scenes throughout Mythic Wonders: The Philosopher's Stone were fun though not overly challenging. The scenes were a combination of list finding, multiples, and interactive objects. I appreciated that the scenes were well done and brighter than many others I've encountered, so I wasn't squinting at the screen to find the last little object. Rather than cluttered piles of random junk, they were reasonable settings that fit in well with the storyline.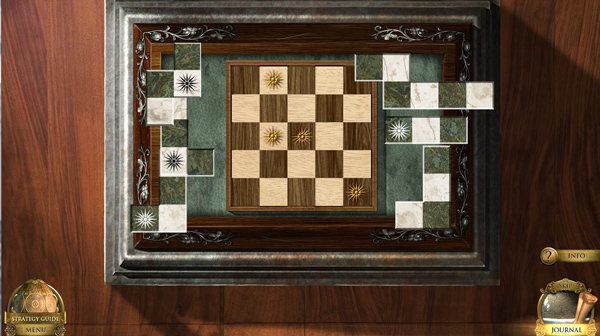 As I mentioned, I took the easy road and played only casual mode when I tried out Mythic Wonders: The Philosopher's Stone, and I definitely got the easier versions of the mini-games. I was somewhat disappointed in their simplicity but that would also make the game appeal to a wider audience. While I wouldn't recommend the game for very young children, I think older kids would be well suited to tackle many of the games.
Mythic Wonders: The Philosopher's Stone has an interesting storyline and decent graphics but didn't have everything I would look for in a CE. It did take me back to my childhood though!