I think I have admitted before, I am a sucker for Match 3 games. I can be insanely competitive, so the challenge of beating the clock or competing against friends draws me in every time. Jewel Legends: Atlantis did not disappoint!
The little merman who introduces the storyline of the game is adorable, and I was thrilled to help them rebuild their lost city.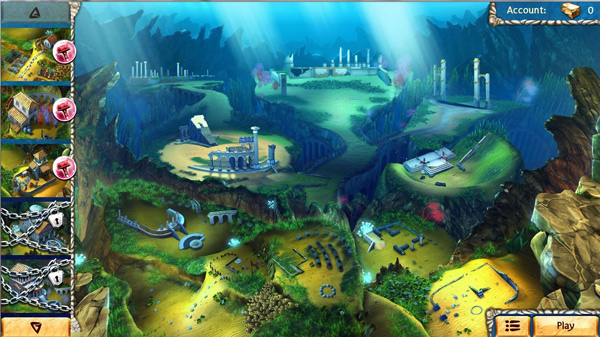 Jewel Legends: Atlantis incorporates three types of play – Adventure, Challenge, and Freeplay. In Adventure mode, there are 140 levels to master and uncover objects to rebuild the city. Challenge mode allows you to compete against friends, and Freeplay lets you revisit your favorite levels you defeated in Adventure mode.
I chose to work my way through the 140 levels and had the further choice of Zen or Timed mode. While I could probably have used a little Zen to unwind from the day, I just can't back down from a challenge and chose Timed mode.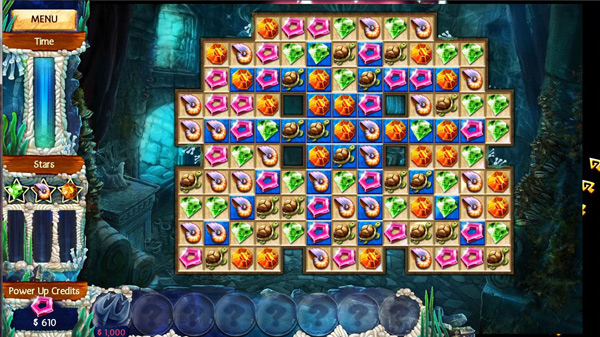 The Match 3 boards in Jewel Legends: Atlantis are traditional – the lower levels start with very basic boards that require you to match 3 or more and eliminate all the blue blocks.
Once you've accomplished that, a gold brick will appear and you need to make sure it gets to the bottom row. If you complete all of that before time runs out, you defeat the board and earn a brick to use in reconstructing Atlantis.
As the boards advance, bricks contain further challenges such as chains that require multiple matches to break.
You can also earn squids and bombs to take out multiple bricks at once. As you complete levels and earn bonus points you will be able to use those points for power items to eliminate blocks, add more time or other options to help you complete the board.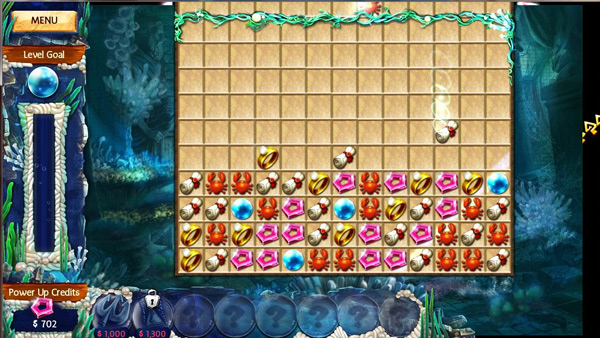 In order to complete the reconstruction, you must also play mini-games to earn blueprints for various buildings. The mini-game boards follow the same concept as the main Match 3 levels but with a twist – they reminded me somewhat of Tetris.
Continue to Match 3 as tiles fill in and keep any of the rows from reaching the top. I found these boards more challenging for some reason; the constant filling of blocks from above made me more frantic than the timer on the Match 3 boards.
The music and sounds in Jewel Legends: Atlantis are pleasant and almost relaxing (I LOVE that breaking glass sound) though they can get repetitive. I think if I were going to complete all 140 levels at once, I would eventually turn off the sound.
The graphics are crisp and clear and the choices for the Match 3 tile icons continue the under the sea theme with turtles, fish, seahorses and other sea life.
I truly enjoyed Jewel Legends: Atlantis, and I can't wait to get back and see how many more levels I can beat to help rebuild the city for the charming mer-people!