Hidden Expedition: Smithsonian Hope Diamond is a well done hidden object adventure game following the story of the Hope Diamond (if you couldn't tell from the title…). In this continuation of the Hidden Expedition series, you're a new recruit for H.E.L.P and must work to find the missing pieces of the Hope Diamond before they fall into the wrong hands.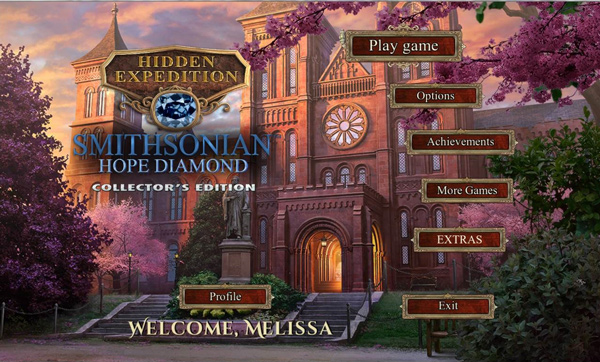 I enjoyed Hidden Expedition: Smithsonian Hope Diamond for several reasons: the game is well-developed, it's based in fact and you can actually learn something! While sci-fi and mythical creature games are fun in their own right, the true historical context of Hidden Expedition: Smithsonian Hope Diamond was a breath of fresh air for me.
I appreciated the crisp graphics and realistic animation of Hidden Expedition: Smithsonian Hope Diamond (I always like when the voice-overs have lip synching; it's the little things for me). In addition, the supporting background music was pleasant as were the special effects sounds.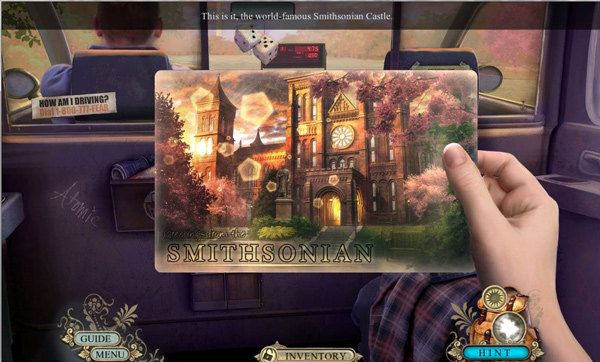 All of the usual elements are present in the collector's edition; an interactive map, integrated strategy guide, collectibles, morphing objects, achievements and bonus content. In addition, Hidden Expedition: Smithsonian Hope Diamond has fully customizable level of play that can be changed at any time during the game if you're looking for more challenge or want to add a few more hints for a younger crowd to enjoy.
Not only are there three levels of difficulty (with names like Journey Master, how fun!) but you can also chose to manually set every aspect including recharge rates for hints and skips as well as how often an active area will sparkle to grab your attention. This feature is great for switching players between mom and dad and the kids.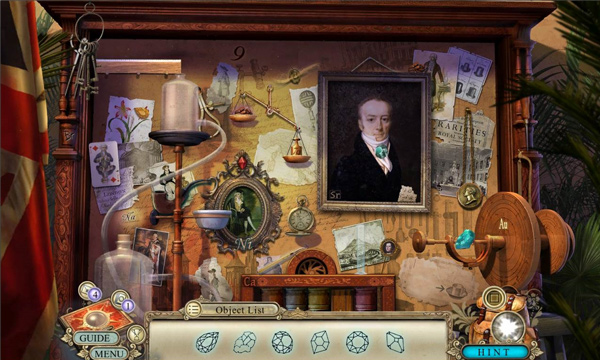 The hidden object scenes scattered throughout the game are fun and more challenging than they may appear at first. The first HOS encountered in Hidden Expedition: Smithsonian Hope Diamond provides a taste of what to expect. It begins with a simple search for some gem shapes based on their silhouettes but then morphs into a chemical symbol hunt and ends with a traditional list search. Each scene adds these types of twists to keep it interesting.
Similar to the HOS, the puzzles and mini games in Hidden Expedition: Smithsonian Hope Diamond are a unique twist on some familiar puzzle concepts. You will come across matching games, riddles, and various types of puzzles, none of which are overly challenging but fit well with the theme of the game and are interesting. Paired with the morphing objects and collectible Smithsonian sun symbols there is plenty to look for.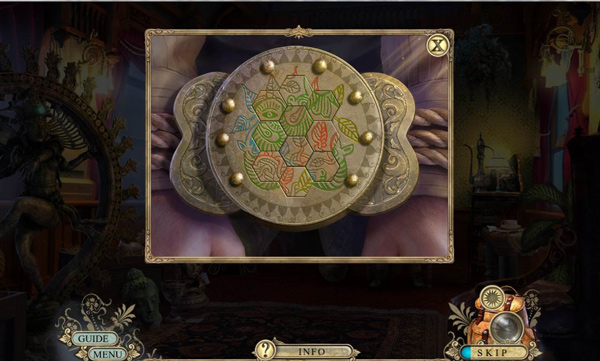 I am a self-admitted nerd, but I loved the fact cards and learning something new while playing a game. Hidden Expedition: Smithsonian Hope Diamond is a great play for an adult, but I also see its value as a family game with appropriate content and underlying lessons. The kids won't even know they are learning!