And here again, I find a game that is a sequel to a game I've never played. I have heard, though, that the Grim Façade series is not one to be missed, so when I got the opportunity to review Grim Facade: Cost of Jealousy I took it.
I do not regret the decision.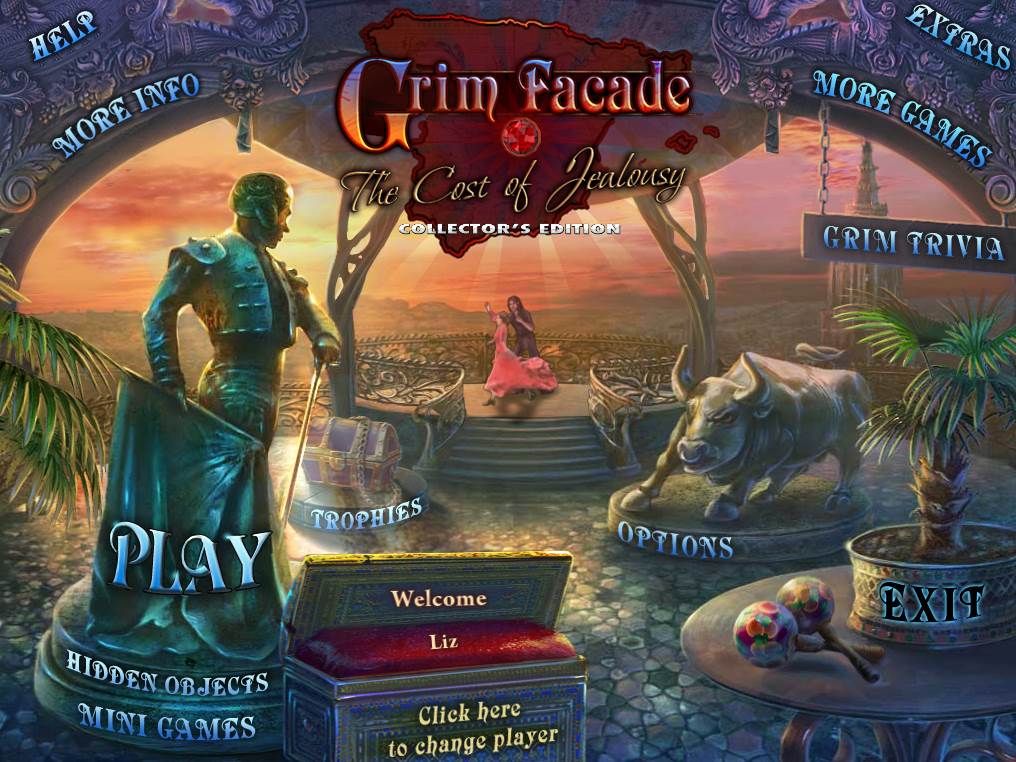 First, the basics: In Grim Facade: Cost of Jealousy, you are a detective who's been called in by a newly widowed woman to investigate the murder of her late husband. The already mysterious death takes a turn for the highly complicated when you discover there are a bunch of suspects and more plot twists than you can shake a stick at. If you're a fan of a good old fashioned who-dun-it (as I am) Grim Facade: Cost of Jealousy is not a game to be missed.
(You know what else is not to be missed? This crazy little garden gnome that follows your cursor around with its crazy little eyes. I'm not willing to divulge how much time I spent making it give me the crazy eyes, but I will say it was time well spent.)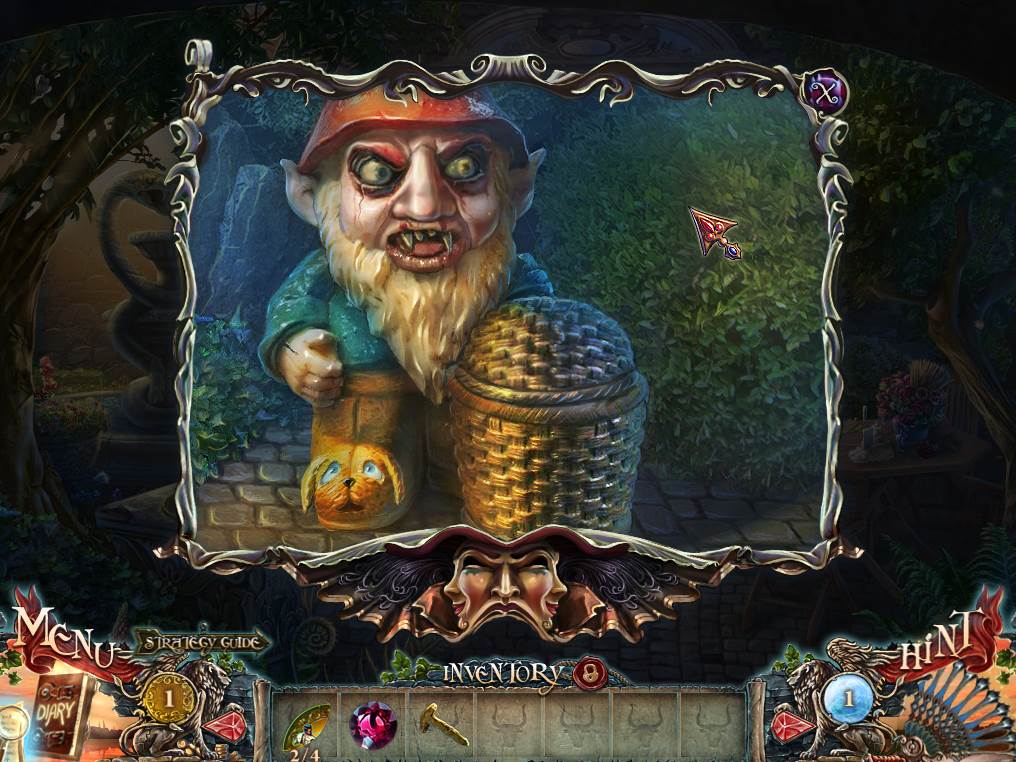 The world of Grim Facade: Cost of Jealousy is also pretty awesome. The game is set in Spain, and I loved the artistry and colors; the whole thing was a delight to behold. I was also captivated by the number and adorableness of animals in the game.
For some reason the design team for Grim Facade: Cost of Jealousy put a bunch of animals into the game, ranging from a domesticated fennec fox to strangely darling little bees, and I was constantly in cuteness-overload (which I was not expecting in a murder mystery). You've got to love a design team who takes the time to insert lovable little cameos.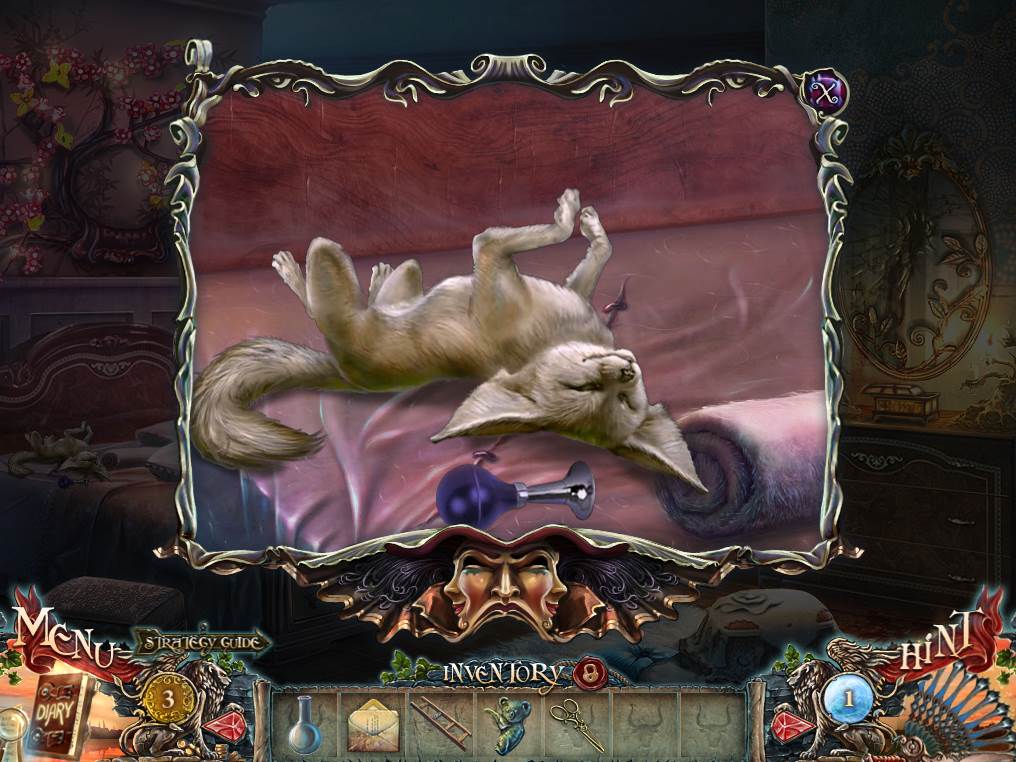 I was also impressed with the range of hidden object areas. Yes, there were some of the typical ones (here's a list, find a bunch of junk), but there were also areas where you collect a number of the same item. My favorite was a hidden object area that took up an entire room; you had to look around for items (including a fat, adorable hamster) that you would use to uncover/find other items.
There's nothing I love more than variety, especially since hidden object areas tend to be my least favorite part of hidden object games (yes, I know that's ridiculous) but with the way Grim Facade: Cost of Jealousy kept shaking things up, I never really got the time to be bored.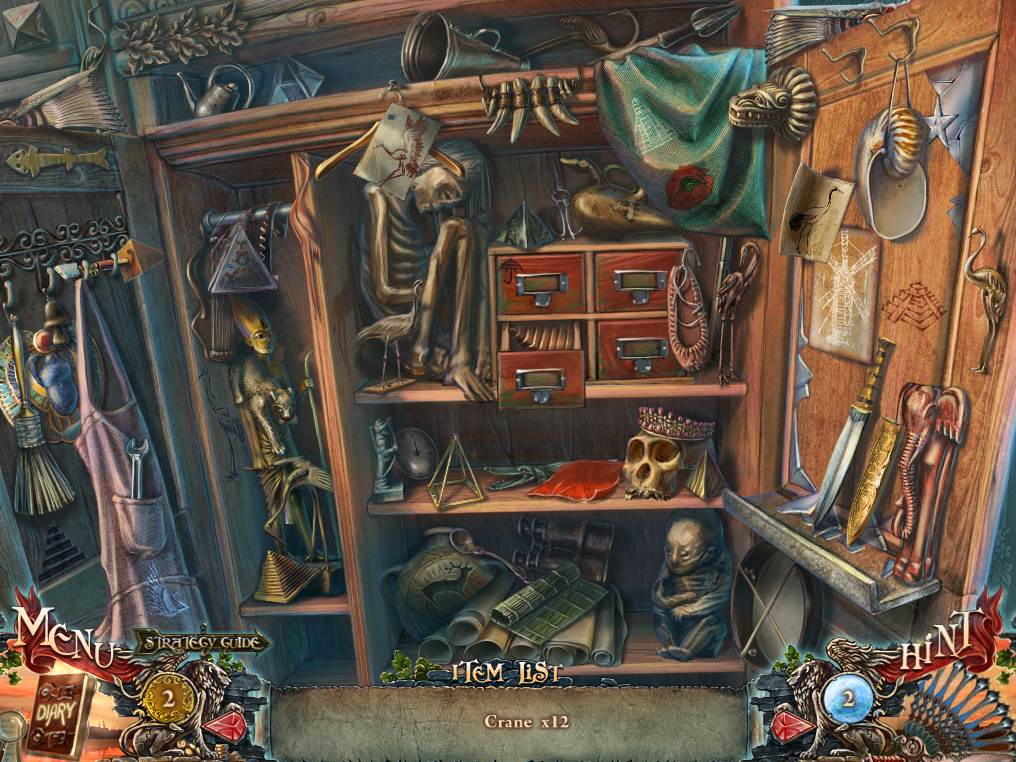 The puzzles in Grim Facade: Cost of Jealousy didn't impress me quite as much, mostly because there wasn't really anything new or special about them, but there was so much else that WAS new for me that I didn't mind.
One of the things that interested me the most was the little shop where you could go to buy things. Throughout the game, you collect these little coins that you then use to buy objects that will help you in your investigation. I thought it was a really interesting way to add another layer that isn't present in many other hidden object games.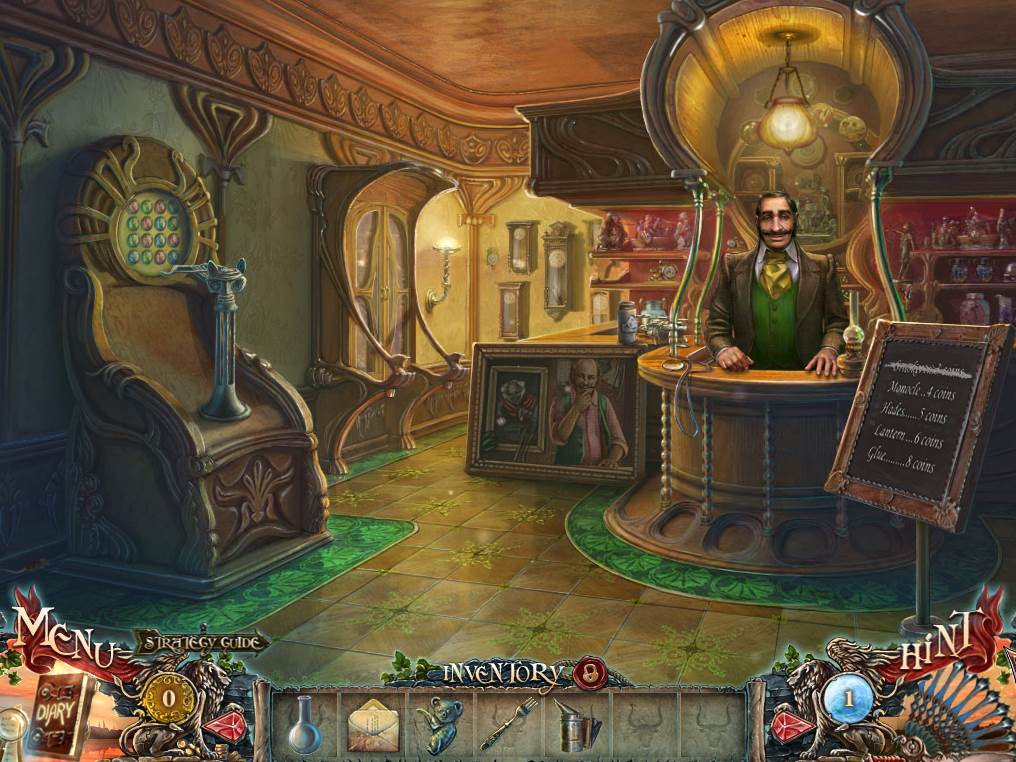 All in all, I had a fun time with Grim Facade: Cost of Jealousy. The plot was interesting enough to keep me playing (I love that Sherlock Holmes feeling) and the world was stuffed with little delightful details (specifically the cute and furry kind). I didn't really get a "Wow factor," but I can see how that would be hard to accomplish in a genre like murder mystery, where everything has been done at least once.
Still, Grim Facade: Cost of Jealousy kept me entertained, and I don't regret a moment spent playing. If you're looking for a solid mystery with a big helping of cute you can't go wrong with Grim Facade: Cost of Jealousy.