In
Death at Cape Porto: A Dana Knightstone Novel
, our favorite novelist / clairvoyant is back in an all new murder mystery adventure!
This time, Dana is drawn to the exotic shores of Portugal at the grand opening of a new hotel owned by the wealthy Aldama family. However, despite your host's promise that no ghosts dwell in his hotel, Dana soon discovers a spirit desperately trying to communicate something to her.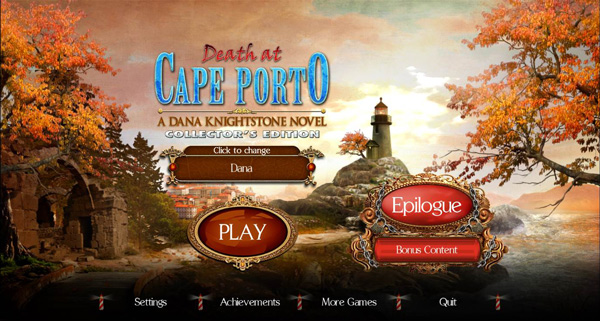 It appears that he was wrongfully accused of his beloved's murder and spent a lifetime in prison because of it. Now, it's up to you to uncover the truth about what really happened long ago and who really killed the beautiful Gabriella.
Okay, not bad for a plot line... not incredibly mind blowing or original... but not bad... Death at Cape Porto: A Dana Knightstone Novel you have my attention... even if it takes forever to spit out your name.
The music and sounds of Death at Cape Porto: A Dana Knightstone Novel easily transport you to the hot white beaches of Portugal, with a lazy guitar and a tinkling of piano softly humming in your ears. It presented a very relaxing experience, one that made me start to salivate for a cool glass of sangria in the midst of a chill winter.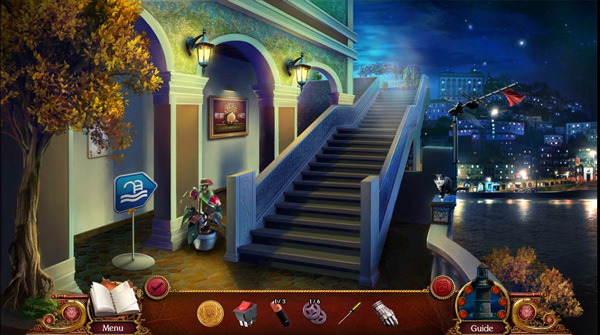 The voice acting was top notch. The oily arrogant voice of one Richard Aldama in particular struck a cord, doing a fair job of immediately putting me on edge with his patronizing tone. Dana herself was decent, although at times, I wished she would stop acting like she was telling the story and actually become a part of it. She tends to adopt that very narrative sing song quality that doesn't seem to fit in this particular adventure.
Incredibly crisp and detailed graphics adorned the scenes of Death at Cape Porto: A Dana Knightstone Novel. Truly beautiful and very lifelike. Although, I will admit, not my favorite art style. I tend to prefer the more colorful, hand drawn illustrations, but I understand this type of story needs a more realistic touch. Sometimes the dark and dingy images of reality just don't capture my attention as well as the bright and enchanting color palettes found in more fantasy-based games... but that's just me.
I will say that I had a problem with some of the game mechanics in this one... at times I felt it was a bit clunky, like when I tried to use the knife to cut the salami for the pizza in a hidden object game. If I have to click multiple times before I hit the right spot to initiate the animation, then something's wrong... it's not like I don't play enough of these games to know what I'm doing.
I also found the hint system extremely infuriating. It was practically useless if you missed an item somewhere. It would just point you toward the end objectives instead of giving you some kind of direction as to where that missing item could be. And with those realistic graphics, the items tend to blend well into the scenery... so if you weren't paying close attention, it was easy to miss something.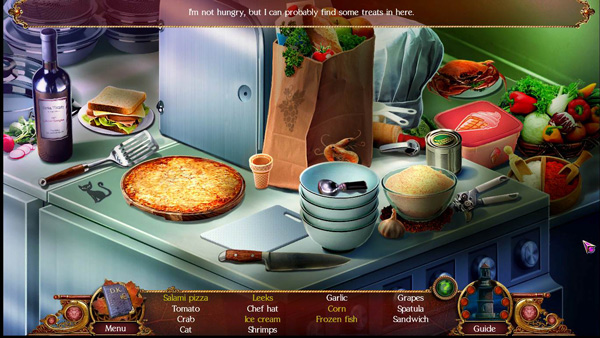 I also felt like the story wasn't communicated well in Death at Cape Porto: A Dana Knightstone Novel. Unless I was totally clueless, it was hard to piece together what was happening. I didn't even really know I was in Portugal until I took a look at the game description... and then putting together all the pieces of the Aldama family was a bit too much for my impatient brain to handle.
Overall, if you're a fan of Dana Knightstone, you'll find Death at Cape Porto: A Dana Knightstone Novel to be a worthy addition to the franchise. It features crisp graphics, gorgeous musical score, and a story that has merit even if it's a bit hard to follow. While far from perfect, Death at Cape Porto should be enough to satisfy hidden object adventure fans.