Cheat: The best tip I can give you to make this game easier is to play the game in "window" mode. When the game starts to get really hectic, simply click outside the window and the game will automatically pause, but the options screen will not obstruct your view. Based on what you see, make a plan of action. When you are ready to continue, click back in the window and click resume.
Tips from Quinn:
The most important thing is to seat the guests next to whomever they ask to sit with. The more guests you seat correctly, the bigger the bonus. You won't be able to pass the harder levels without doing this correctly.

Its Quinn's job to take care of any wedding disasters before the bride sees it.

Chaining bonus by delivering two items in a row.

By keeping the guests happy, the bride and groom stay happy.

If you accidentally pick up food that nobody wants, throw it out in the dish bin. You'll lose money for the wasted items, though
Things Quinn doesn't tell you:
Nuances of Chaining
In order to get the expert score and to pass certain levels, you must understand how chaining works. To chain food, you must serve the same item continuously. If you do another task like pick up a present or serve a different kind of food, you break the chain. If you wanted to chain the appetizer to six guests, you must serve six appetizers in a row without doing any other task. The same applies to presents, etc. The major exception to this rule is seating guests according to their preference. You can seat a guest according to preference, perform other tasks, and then seat another guest according to their preference, and you will get the chain bonus. You don't get chaining bonuses for Quinn handling wedding disasters.

Example of 6x bonus for serving a chain of appetizers
Quinn and the Server have a special moment

Have Faith in Chains!

In the last few levels, a lot of people will get impatient and there's not much you can do after you run out of champagne except let them wait and get to them as fast as you can. You will still be able to get an "expert score" if you maintain your chaining bonuses and serve drinks along with taking care of all the wedding crises. Your may start to get stressed, but try to remain calm and take care of everything else. Use the window cheat above when you need to get perspective! It may seem that because you are losing a lot of points that you will not make it but that's not always the case. That is why it's important to chain orders as much as you can.
Wait until the room is full
In level 5, you'll need to wait until the room is full to maximize chains. Seat people, but give them Champaign to keep them happy. Deliver all the gifts at once, and then start serving the appetizers followed by the entrees and desserts. Even if someone is ready for the next course before you finish, let them wait so that you do not break up the chain of events.

Fake 'em out
If the tables are too crowded and you are not able to switch customers to a different table, you can pick them up as if you were about to switch them and then drop them back in their seats. This will make them go back to ordering their next menu item and it will help you maintain the chaining bonuses. There are no penalties for doing this, but you won't get the 100 points for re-seating them either. On the good side, however, you can extra points because your chaining bonuses will not be interrupted.

If you know a guest will want something but the guest is not yet ready for it, you can move the server into position early by clicking on the guest before they are finished. This will move the server to the end of their table and will waste less time.

You do not have to wait to serve someone to click on the next thing you want the server to do. Click ahead to stack the orders. This will give you more time to digest what is going on around you.

Don't seat guests right away. Let a few arrive so you can understand their seating preferences better.

If you can't seat someone according to their seating preference, seat them before they get too angry so you don't lose points from their anger. You can recover these points by focusing on the chaining bonuses instead. You can still reach the expert score this way.

Use your champagne and the confetti to keep large groups of people happy at one time. There are between 1 and 3 bottles of champagne at certain rounds so use them when they are most effective. It's best to wait until the majority of the guests start having a red jagged edge over their heads. The confetti machine takes a long time to load up, so it's best to use it when you have a lot of people that are seated so that you can maximize its effect.

Characters You'll Meet: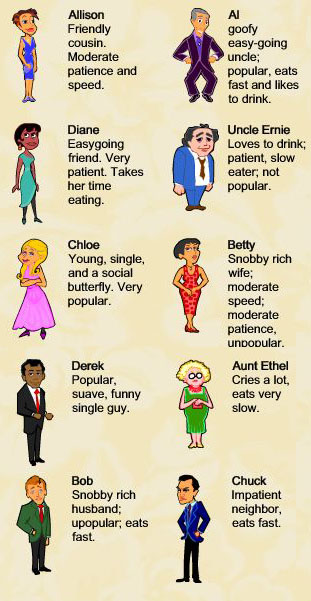 Always sit Chloe in the middle of the table. Always put Ernie and Betty at the end of the table. Always seat Betty last.

Anticipate what the guests will need and have it waiting.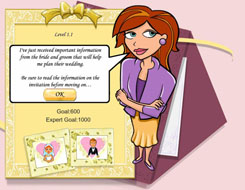 Invitations
1.1 tower callas, crackers and cheese, chicken
1.2 beef, romantic marble cake, Kauai
1.3 shrimp, classic white, Madrid
1.4 spring basket, asparagus, chicken
1.5 shrimp, halibut, Yosemite
1.6 winter rose, Fettuccine Alfredo, strawberry cake
1.7 Fettuccine Alfredo, buttercream dream, Bahamas
1.8 roses bloom, shrimp scampi, Pesce alla Romana
1.9 vintage roses, London broil, cocoa heaven
1.10 brie, lemon chiffon cake, Paris

2.1 quiche, vegetable stir-fry, Smokey Mountains
2.2 crackers, beef, spring basket
2.3 daisies, lemon chiffon cake, New York City
2.4 winter rose, shrimp, buttercream
2.5 skewers, London broil, cocoa heaven
2.6 asparagus, romantic marble cake, Kauai
2.7 winter rose bouquet, strawberry delight, Chicago
2.8 shrimp, beef, Athens
2.9 callas, buttercream dream, Yosemite
2.10 asparagus, vegetable stir-fry, carrot walnut cake

3.1 callas, asparagus, halibut
3.2 vintage roses, ahi with mango salsa, buttercream dream
3.3 shrimp, chicken, Venice
3.4 vintage roses, organic cake, Madrid
3.5 vegetable stir fry, romantic marble cake, Los Angeles
3.6 daisies, shrimp, ahi
3.7 steak, lemon chiffon cake, Boulder
3.8 skewers, Fettuccine Alfredo, cocoa heaven
3.9 quiche, Fettuccine Alfredo, Zimbabwe
3.10 winter rose, asparagus, Kauai

4.1 crackers, halibut, Boston
4.2 asparagus, halibut, strawberry delight cake
4.3 spring basket, classic white, Bermuda
4.4 romantic elegance, classic white, Himalayas
4.5 asparagus, stir-fry, marble cake
4.6 callas, lemon chiffon, San Francisco
4.7 daisies, asparagus, Fettuccine Alfredo
4.8 spring basket, crackers and bleu cheese, BBQ steak
4.9 winter rose, quiche, strawberry delight cake
4.10 vintage roses, romantic marble cake, Belize

5.1 Sicilian shrimp scampi, chardonnay chicken, Kauai
5.2 garlic shrimp, filet mignon, Kenya
5.3 summer splendor grande, brie with crackers, romantic marble cake
5.4 tower callas, grilled asparagus, Mt. Fuji
5.5 cilantro lime shrimp, rosemary chicken, Argentina
5.6 grilled lemon halibut, buttercream dream, Los Angeles
5.7 chicken skewer, Fettuccine Alfredo, Tanzania
5.8 filet mignon, cocoa heaven, Rome
5.9 asparagus, ginger salmon, Paris
5.10 Fettuccine Alfredo, cocoa heaven, Himalaya

---
Content(s) of this game guide may not be copied or published on any other site without permission from Casual Game Guides. ©CasualGameGuides.com 2006 - 2018