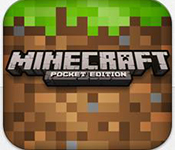 Minecraft - Pocket Edition
Minecraft is about placing blocks to build things and going on adventures! Pocket Edition includes randomly generated worlds, multiplayer over a local Wi-Fi network, and Survival and Creative modes. You can craft and create with your friends anywhere in the world so long as you have hands spare and battery to burn. Our most recent update added the iconic Creepers. They're big, green, mean and explody. But it's just one of many.
Comments: Compatible with iPhone, iPod touch, and iPad. Requires iOS 4.3 or later. This app is optimized for iPhone 5.
Genre: Action
SubGenre: Adventure
ESRB: Everyone

Current Download Rank: #1000

Minecraft - Pocket Edition Screenshots