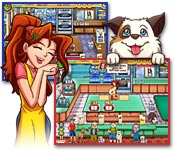 Jessica's BowWow Bistro
Jessica's looking to expand her cupcake shop by dishing up premium pet treats! Get her Bow-Wow Bistro booming by baking yummy delights for pets and their owners. Dazzle guests with decadent dcor and a kitschy kitchen where culinary creations appease the palates of people and pets. Use your Time Management talents to upgrade your shops and create a menu of healthy, tasty treats!
Fantastic gameplay
Amazing action
Dish up doggie delicacies!
Genre: Action
SubGenre: Time Management
ESRB: Everyone
Free Trial: Yes
Current Download Rank: #2304

Jessica's BowWow Bistro Screenshots