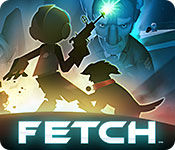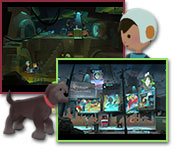 Fetch





Read Our Review
Big Fish Studios is proud to present Fetch, an adventure tale that will warm your heart and keep you touching the screen for more! One part interactive animation, one part childhood delight, equal parts adventure and arcade, Fetch captures the timeless emotion of puppy love and takes you on a journey through dark tunnels and sandy shores to save your best friend. Do you have what it takes to save Bear? Prepare yourself for a wild ride filled with wagging tails and boisterous barks!
Battle hilarious aliens
discover a prehistoric ocean
build a robot
pilot a rocket ship, and more!
Discover arcade-style games like Rainbow Snake Time and Pier Pressure
then compete for the highest score with family and friends!
Captivating characters bring a timeless "tail" to life!
Dive in to a living animated world
Comments: Compatible with iPad 2 Wi-Fi, iPad 2 Wi-Fi + 3G, iPad (3rd generation), iPad Wi-Fi + 4G, iPad (4th generation), iPad Wi-Fi + Cellular (4th generation), iPad mini and iPad mini Wi-Fi + Cellular. Requires iOS 5.0 or later.
Genre: Adventure
SubGenre: Adventure
ESRB: Everyone

Current Download Rank: #2472

Fetch Screenshots