A sibling meet-up turns sinister when your brother is kidnapped before your very eyes. Now you must discover who took him and why in Tales of Terror: Crimson Dawn. But getting to the bottom of this mystery won't be easy, and as your search leads you deeper and deeper into the dark secrets of a traitorous mansion, one thing becomes abundantly clear: the kidnapping might be the least of your worries.
I was cruising around, looking to try a new game, when I happened upon Tales of Terror: Crimson Dawn. Now, who in their right mind could pass by a game with a name like that? Not this horror lover, that's for sure. So I hit download and got ready for some frights.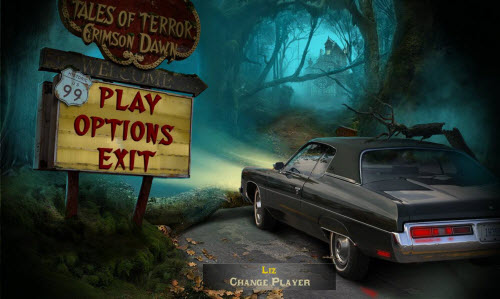 Everything started out really well: the brother is kidnapped by creepy dudes in hoods and it's up to you (the sister) to save him. I adore the flipped rescue rolls because it shakes up the monotony of a damsel in distress.
Follow that up with what looks like either human sacrifice or some kind of demon thing, and I was all, "Woo-hoo! This is gonna be good!" And then the sister hits a fallen tree with her car and my hopes began to plummet. Because you know how most suspense-type games begin these days? With a car crash.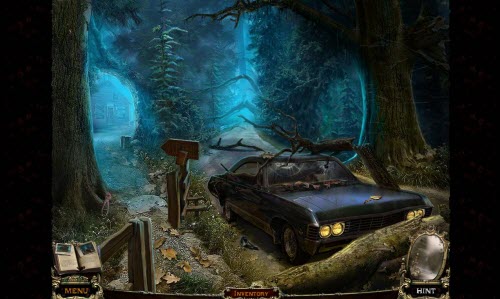 I understand that hidden object games have a certain rhythm, especially within the different genres, so I don't really hold repetitions like the standard car crash against them. So I kept playing, and while I'm glad I did, I'm a little on the fence about how I actually feel about Tales of Terror: Crimson Dawn.
There were a lot of things I liked. The graphics, for example, were lovely. I loved the use of color to set the mood, and visually the game was just really nice. Although, I will admit when I walked into the room below, my first thought was "It puts the lotion in the basket," although there was nothing bad about the aesthetics of the room itself. I can still appreciate that it's a creepy image. They were able to set up a sinister vibe without being in your face about it, and I like subtly in my horror (see the skeleton?).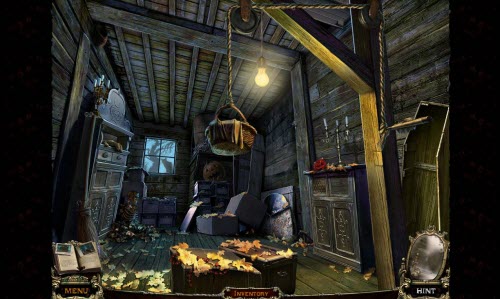 While I did tend to struggle a bit with the mini-games (mostly because I often couldn't figure out what I was supposed to be doing), I had a much better time with the hidden object scenes, which were both lovely to look at and completely within my capabilities (which is kind of a big deal for me).
I often have a really hard time picking out individual pieces from a pile, but not this time. That probably just means they were super simple, but since I had the game set to "casual" I think it was perfect.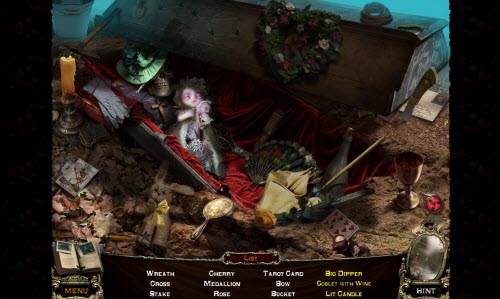 Another aspect I enjoyed was the audio. The music in Tales of Terror: Crimson Dawn was wonderful, soft and haunting rather than bump-in-the-night scary. It set up a vaguely creepy feeling that went well with the sinister undertones of the game.
The voice acting was similarly commendable, although I feel as though they may have used one set of actors for faces and another for voices. I found that a lot of the time, I'd see a character and be really weirded out when they started talking, like they just didn't match up. It was sort of like at the end of The Return of the Jedi, when Luke takes off Vader's mask and instead of being an awesome, powerful man under there it's just this potato-looking old dude. Not the best moment for me.
In the end, I found a lot of little things to like and a lot of little things to dislike about Tales of Terror: Crimson Dawn. I feel as though there really isn't a clear-cut answer to the question, "Did you like this game?"
On the one hand, I enjoyed the plot, certain aspects of the characters, and the overall look and feel of the game. On the other hand, I thought Tales of Terror: Crimson Dawn wasn't able to really set itself apart from other scary hidden object games out there. There's just not anything that says "Pick this game first, it's better."
Strictly speaking, there's nothing wrong with it; I also don't regret the time I spent playing. It's not a bad game. But for me, it comes down to is this: if your game has the word "terror" in it, it had better be terrifying (or at least trying for it). But in this case, it's not; it's a mystery for sure, but there are a lot of games out there that have way scarier premises. I had certain expectations going into Tales of Terror: Crimson Dawn and they weren't met. That's kind of a bummer.
So, if you're interested in a low-key mystery game that's a fun, casual play, this is definitely a good choice (I, myself, love a mellow game when I'm in the mood for it). But if you're looking for a tale with some terror? Keep looking.