Being a person who is pretty nervous around the ocean, Small Town Terrors: Pilgrim's Hook seemed a frightful concept to me.
What can I say, I grew up in New Jersey, and no, I'm not a shore rat.... I lived in the north-western, extremely rural section of New Jersey... where you find the hill people and hear banjos playing as you drift down the crick.
I know... not many people know this part of Jersey exists. But let's just say, due to my mountainous upbringing... I didn't spend much time near the ocean waters.
I also don't swim well.
So when I read about the premise of Small Town Terrors: Pilgram's Hook, where an ancient evil force is lurking in the dark waters that surround the town, I knew I had to play... I mean, just thinking about something creepy in the water makes me break out in a sweat.
But I wasn't going anywhere near this evil ocean, without knowing I had a Small Town Terrors: Pilgram's Hook Walkthrough to help me tread the unknown dangers I was going to be up against.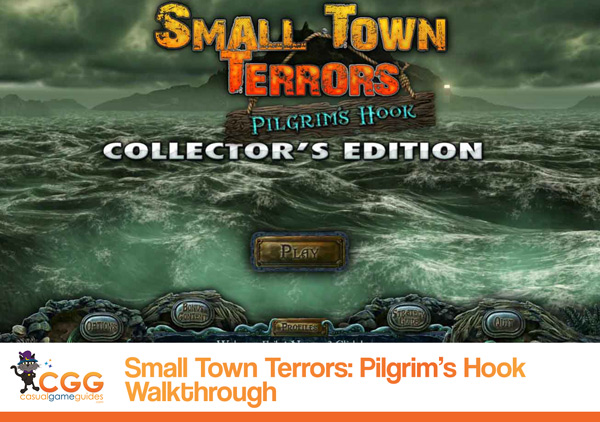 And so, Erika's been working diligently on our Small Town Terrors Walkthrough the last week or so, and I'm happy to say, it's live and ready for all of us to enjoy.
She made sure to include detailed information for us, separated by chapter so we can easily find our place, as well as custom screenshots that are beautifully marked, because she knows I need pictures in order to find certain objects... sometimes just telling me it's over there on the right is not enough when I'm staring at a dark, spooky scene.
She also included solutions to all the puzzles and mini-games, and explained how to complete each one using very easy-to-follow instructions.
All in all, the Small Town Terrors Pilgram's Hook Walkthrough contains everything you need to fearlessly take on this adventure, find your brother, and defeat this evil ocean monster once and for all.