When I first came across Fairly Twisted Tales: The Price of a Rose, I was excited, but hesitant. Most fairy tales have been done to death, and Beauty and the Beast is no exception. But the description promised a fairy tale with a twist, so I decided to give it a try.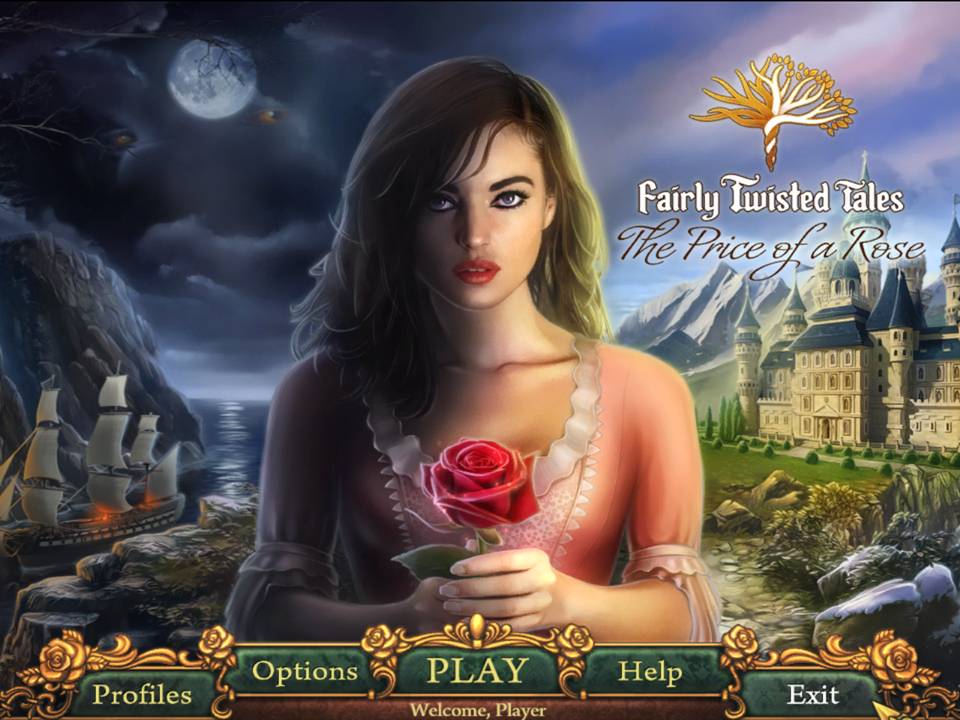 In Fairly Twisted: The Price of a Rose, you play a detective who's been called in to try to save a young woman who has promised to marry the beast in exchange for her father's life. Her father, who got her into the mess in the first place by stealing a rose, refuses to leave her to her fate, so you've been tasked with finding a way to save her.
Sound new and refreshing? Yeah, I didn't think so.
From what I can tell, we're supposed to think Fairly Twisted Tales: The Price of a Rose is original because it kind of focuses on the "missing prince" and the fate of the kingdom or something. But, honestly, the ending looked like a watered down version of Disney's.
So the plot was a bit of a disappointment, but what about the rest? Well, the artistry was lovely (even though I thought Bella's sultry beauty was a bit overdone). Everything was crisp and so, so lovely. Even the hidden object areas (which were super difficult in my opinion) were just amazing to behold.
But, seriously, those were some tough HOAs. Some were the normal find-a-list while others were the kind where you collect many small pieces to make a whole. While the first set was challenging the second were down-right impossible. And I don't like hidden object areas to begin with, so every time I came across a sparkling area, I felt like it was a little torture just for me.
The puzzles were entertaining, though, and I felt as though there was a good assortment of them. There were some that actually made me think, like in a math kind of way. I appreciate a game that can force me to think.
Fairly Twisted Tales: The Price of a Rose is sort of split up into very manageable chunks (mostly centered around waking up the palace staff and/or exploring a new area), and I love a clearly laid out chapter. The amount of world available is a little intimidating, even with a transportation map, so I was grateful to have our Fairly Twisted Tales: The Price of a Rose Walkthrough along for the ride. Our tips, step-by-step instructions, and custom screenshots will ensure you don't get lost as you travel through the kingdom.
Fairly Twisted Tales: The Price of a Rose wasn't really my cup of tea, but with our Fairly Twisted: The Price of a Rose Walkthrough there to ensure you know each step to take, I definitely suggest you give it a try. What do you have to lose?