Our Dark Arcana The Carnival Walkthrough will be your personal navigator as your search for the missing Susan Jones takes you back and forth between this world and the dark and torturous mirror world. Use this guide to reveal a tragic love story of a desperate man who will do anything to right the wrongs of his past, even if it mean unleashing an untold evil on our world.
It's finally happened. The moment I look forward to all year long. The weather here in Florida has finally changed! The humidity is gone! The air is crisp and cool, with nothing but gorgeous blue skies as far as the eye can see.
I adore this weather... I live for this weather. For most of the year, I absolutely hate where we live... but then fall comes to Orlando, and I all of a sudden remember why we moved here. Even if it's 50 degrees, which it has been for the last few days, you'll find me wrapped up in a blanket and a sweatshirt reveling in the cool weather on our porch outside, usually with my laptop in hand and either writing or playing a game.
Ahhhh this is the life. Yes, it's the little things that make me happy.
You know what else makes me happy? Getting to experience a game as unique and as well thought out as Dark Arcana The Carnival.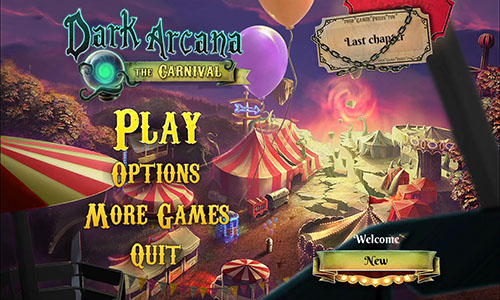 I know... I've been harping on this game for awhile now. I know it has barely squeaked into the Top 10 Big Fish Games, and I really think that's a shame. I loved everything about this game, and that's why I worked so diligently to create a Dark Arcana The Carnival Walkthrough to showcase on our site.
In the game, you play the snarky detective caught up in more than just a missing persons case. You soon discover a trail of clues that reveal a tragic, heartrending love story, and a man who is willing to sacrifice himself and our world in order to bring his true love back from the dead.
What can I say? I'm a sucker for a good story. And one that is devoid of haunted hotels, crumbling asylums, and lost ghosts is a welcome change. No, the creepy carnival scene filled with garish glows and nightmarish creatures is just what I needed to shake things up a bit.
But the game can get challenging in areas, so that's why I made sure that our Dark Arcana The Carnival Walkthrough is filled with tons of custom screenshots, detailed game instructions, and solutions to each and every puzzle you'll encounter.
If you haven't tried Dark Arcana The Carnival because you've been distracted by all the new sequels to popular franchises that have been coming out lately, try to put this on the list of games to try when you want something, fun, different, and thoroughly enjoyable. Have fun, and we hope the Dark Arcana The Carnival Walkthrough helps you in your journey!