There's no question that I truly adored Cursery: The Crooked Man and the Crooked Cat, in all its dark mystery, brilliant storyline, and captivating graphics.
Based on a lesser known Mother Goose Rhyme, of all things, this game launches you straight into the action, with a dark and twisted man, driven mad by the loss of his love, stealing your sister, Renee, for his own unspeakable plans. Earnestly believing Renee is the reincarnation of his fiancée, he drags her through the darkening wood, leaving you no choice but to race after him, facing dangers along the way.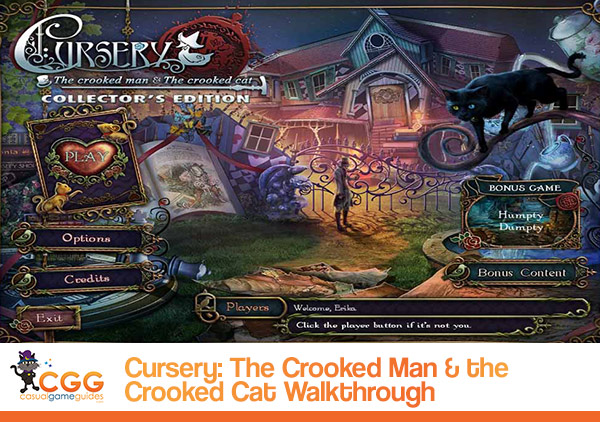 To help you make your way past the countless obstacles and dangers waiting for you in the Crooked Man's forest, we've made sure to include tons of custom marked screenshots, depicting key items and areas you're going to want to take a look at.
You'll also be treated to step-by-step instructions that will guide you in exact detail from the very moment the Crooked Man steals Renee away to the final moments of the game.
And finally, you'll have access to all the solutions to the challenging puzzles you'll encounter, along with screenshots of all the fragmented hidden object games you'll play with all the items marked for your convenience.
So there's no need to wander aimlessly around hoping you'll stumble upon the right answers! Our Cursery: The Crooked Man and the Crooked Cat Walkthrough is a helpful resource waiting to be used whenever you need a bit of guidance as you play this exciting hidden object adventure game.